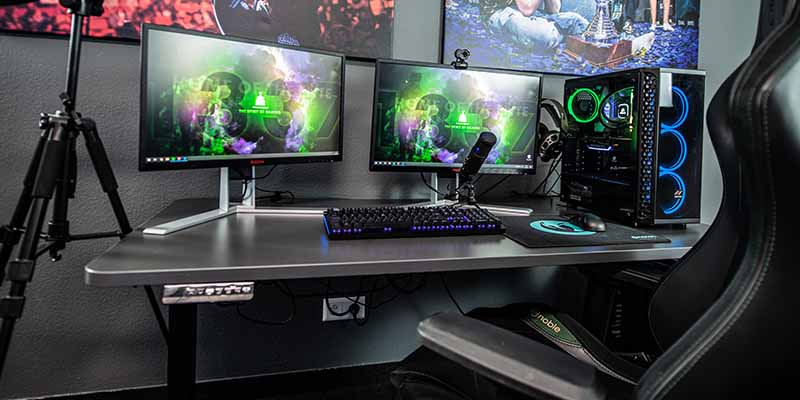 Introduction
Many PS5 gaming setup ideas exist, but finding the perfect one for your space can be tricky. The PlayStation 5 is among the most powerful gaming consoles on the market.
So, if you want to get the most out of your PS5 console, you'll need the right setup. Your gaming setup should be practical, comfortable, and style. Of course, it should be able to accommodate all your gaming equipment or gear.
The article puts together a list of the best PS5 gaming setup ideas. It covers you, from accessories and storage to chairs and desks.
So, what are you waiting for? Start building your ultimate PS5 game setup today! Here are the best,
PS5 Gaming Setup Ideas
Clean and Compact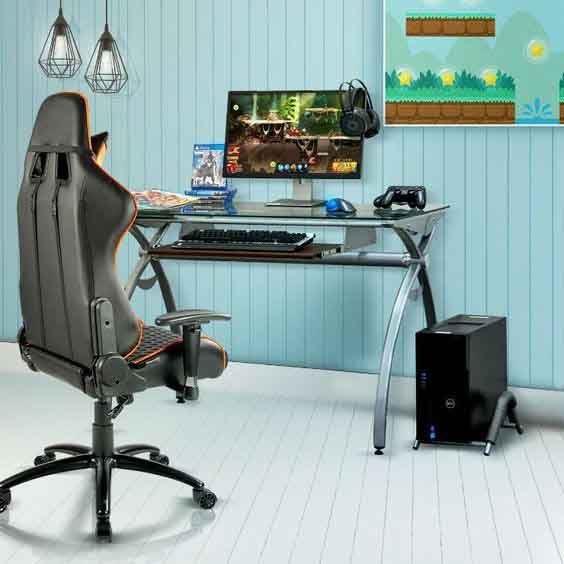 The popular gaming room setup is excessive visual and color noise. But there's the option for minimalism and modesty. For example, sleek and ergonomic equipment with a small gaming desk, etc., will offer that elegant simplicity.
2. Mahogany and Mounted Display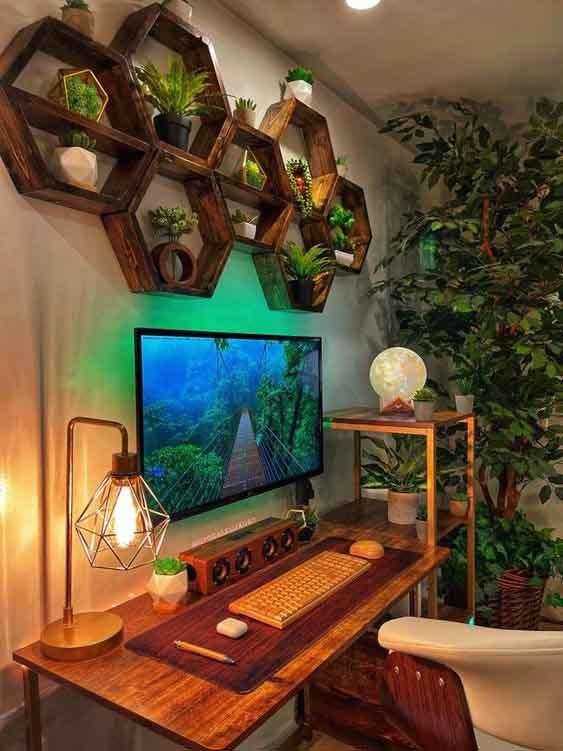 In any gaming room, the screen space and desk are important. But the extra room is worth it since it allows you to move around freely.
The massive mahogany desk and the mounted display plus décor are so impressive. The mouse pad and the gaming chair also pull double duty in function and form.
3. Ultra-Wide Sights and Purple Lights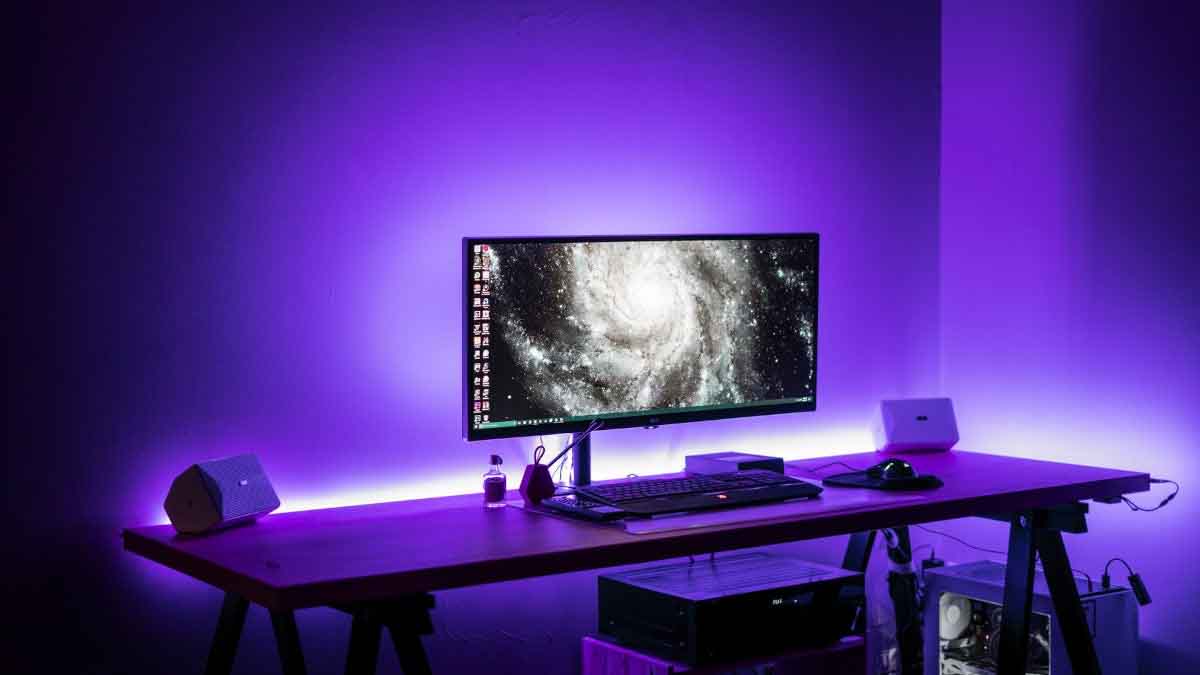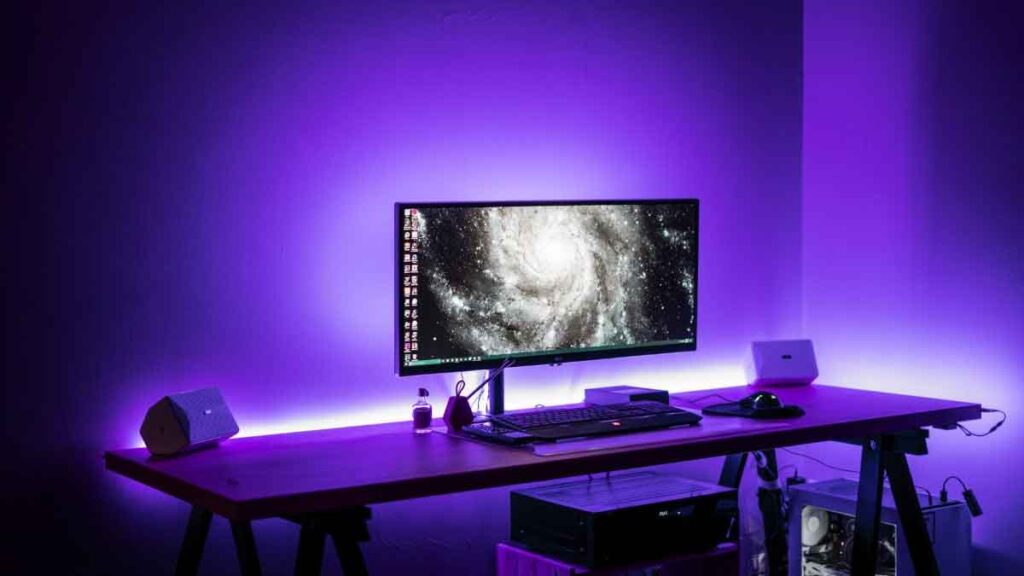 LED strip lights offer more than what's expected from them in any gaming room. It illuminates and redefines ordinary spaces; the moody purple light isn't an exception.
In addition, the lengthy and shallow gaming desk makes the display more visible. You can place your powerful PC beneath the table to create some space at the top.
4. Captain's Chair
The captain chair plus effective room décor on a great gaming desk will create that battle station look. That's the look that most hardcore gaming enthusiast likes. You can add soothing red and blue light strips to enhance the space's look at night.
5. Industrial Theme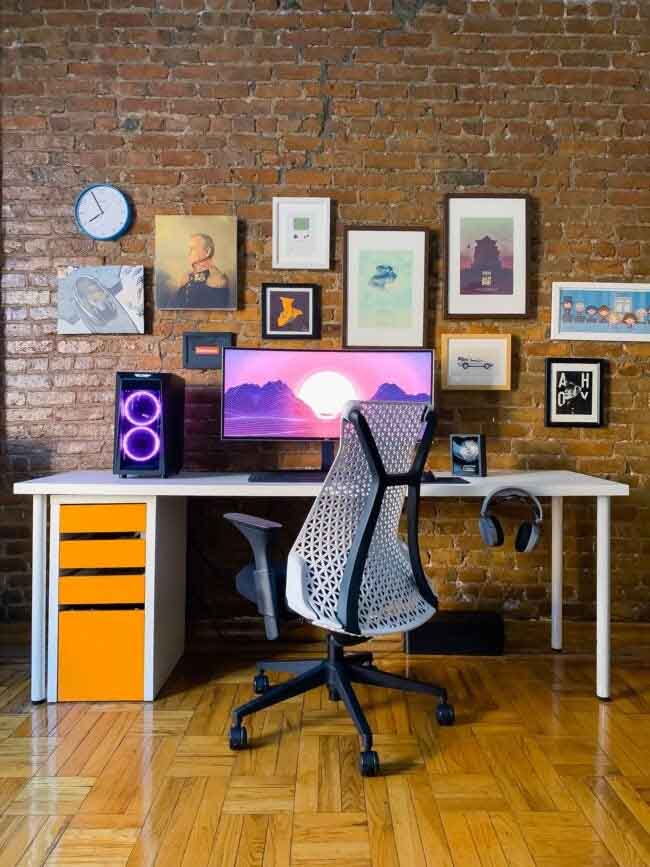 A traditional house isn't essential to creating this gaming setup idea. However, the space should have exposed bricks, and you can thoughtfully arrange pop-culture wall art to add some life.
The gaming chair and desk should also be great to lend the setup a mellow yet sophisticated air. You can add wallpaper, fluorescent desk drawers, and much more.
6. Alien World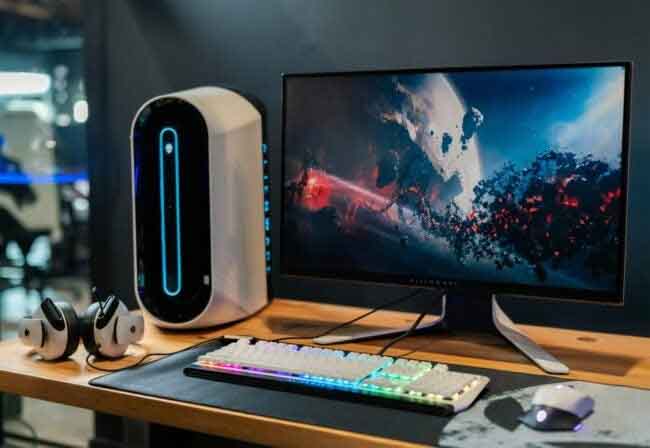 Some gamers love sci-fi and are obsessed with extraordinary things like aliens. You can easily bring the alien world to your gaming space with the right equipment.
To add to the alien ware display, you can include a black and white keyboard, headphones, casing, etc. Note that extraterrestrial wallpaper is a must for an alien ware display.
7. Neon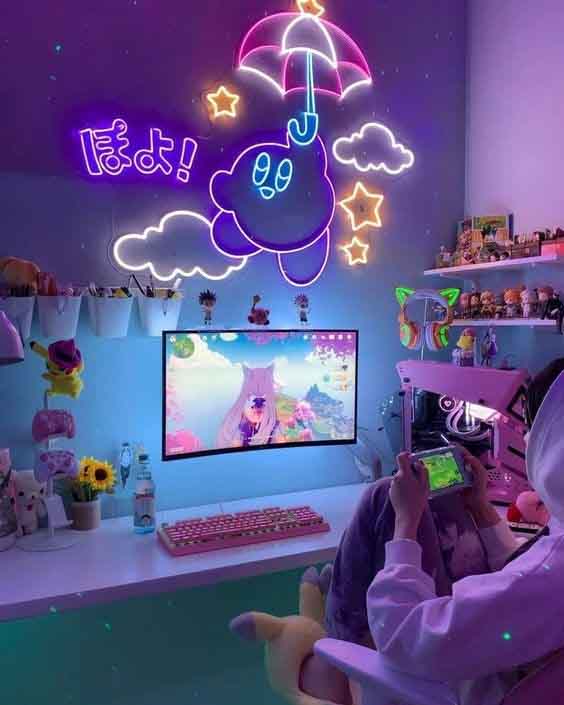 You can create this setup by adding several LED light strips and neon signs. These will seamlessly make your space ooze with the neon atmosphere.
A simple wall accent, chair, and gaming desk will add depth and texture to this setup. The amazing bit is you can get an exclusive neon sign for your gaming room.
8. Heavy-Duty Metal Desk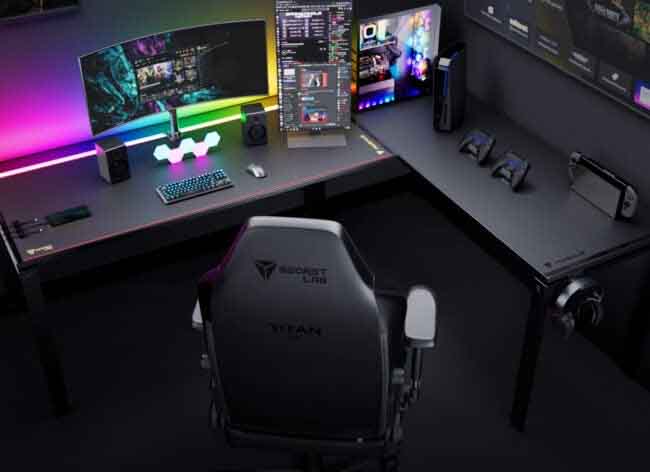 If you have a thing for steel and quality, then you should go for the heavy-duty setup. Steel gaming desks are easy to clean, and you can purchase them with quality add-ons, including proprietary cable management, etc.
The heavy-duty desk can be over 300 pounds, and its appearance will make your gaming room formidable.
9. Jungle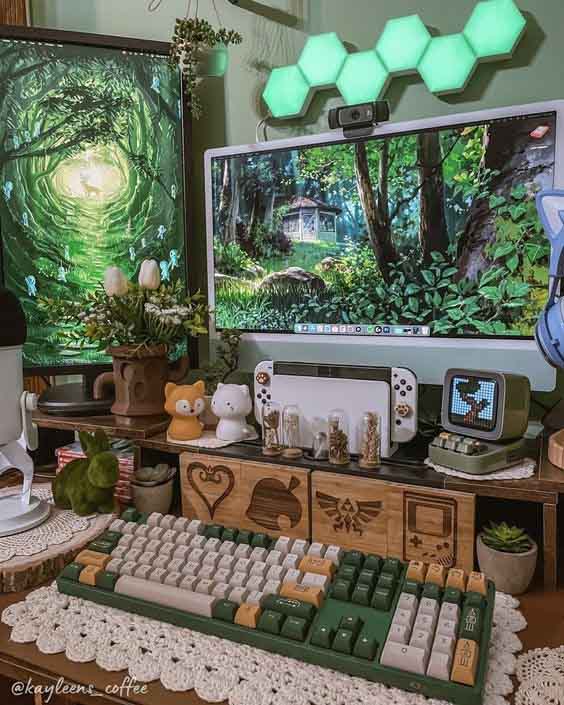 Nature lovers will love this setup. This should be a solid inspiration if you need the inspiration to make your gaming room jungle-themed. You can strategically place plants in the gaming room to give it a better jungle feel.
10. Good Lighting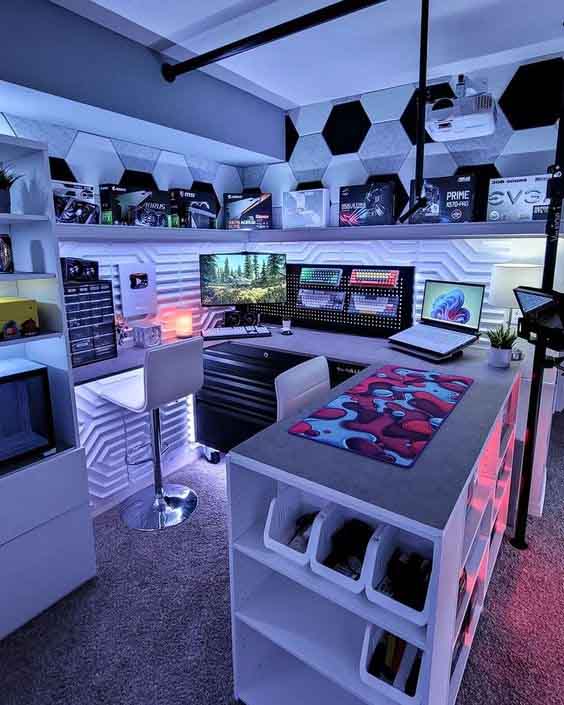 Your gaming room should be spacious and well-lighted to get the most out of the PS5. The lighting in the room should complement your display. No gamer wants to sit in dark room playing games and harm their eyes.
11. LED Strips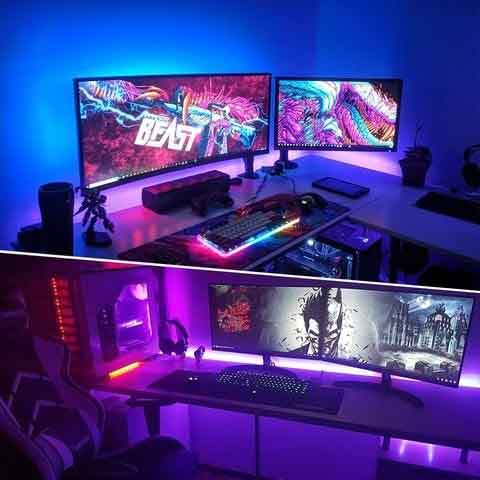 Light is essential when it comes to setting up a gaming space. Today LED strips are popular, and almost everyone is installing them. You can place the LED strips behind the monitor, on CPU sides, or on the wall.
12. DC Inspired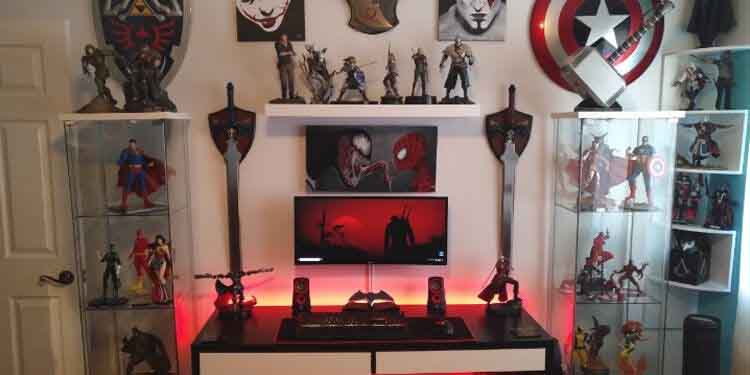 In this setup, you'll feature your best DC collectible alongside your gaming system. Arrange everything symmetrically to make the gaming space neat. You can make the space better by adding glass cabinets and lights to the cabinets. It makes the action figures stand out.
13. Music Mixer's Paradise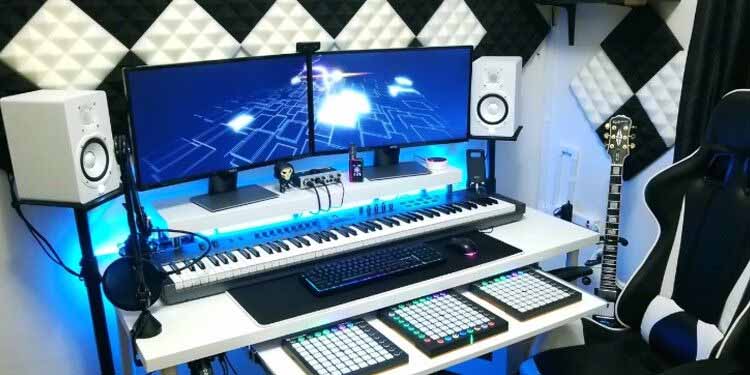 A music lover and gaming enthusiast will appreciate this setup. Amazingly with all the equipment, there are only a few visible wires.
It's hard to manage cables if you have many components. But you can solve all this by choosing the right gaming table. It'll allow you to properly and neatly plan your cables.
14. Outdoor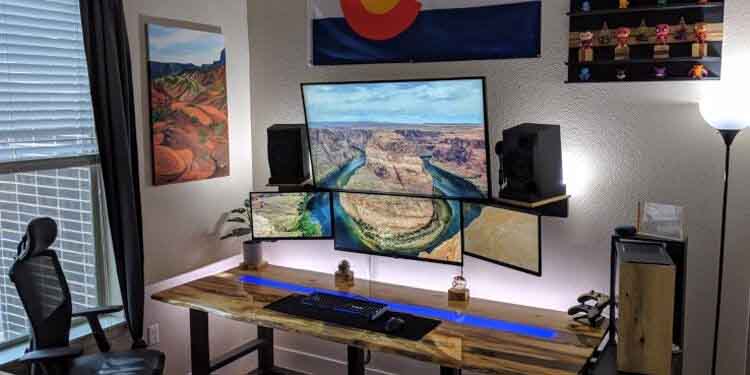 The setup is ideal for a gamer that loves outdoor activities such as hiking, trailing, etc. The outdoor themed room will give you an idea of how to set up yours.
All that matters in this setup are your peripherals, desks, and décor. Ensure a decent amount of natural and white light to improve the room.
15. Fallout Theme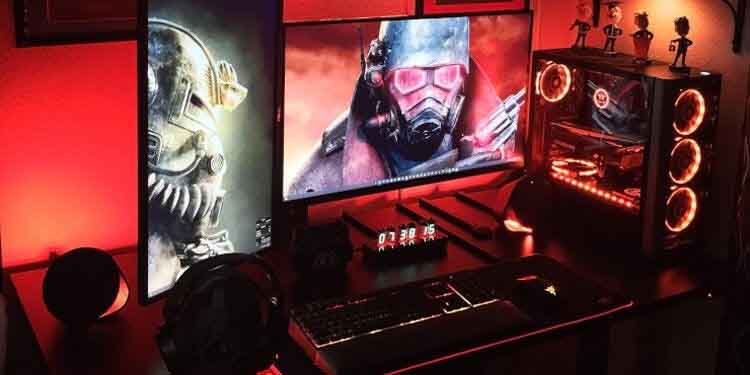 The Fallout 76 has been trending since its release, and it's impossible not to include it in their gaming rooms.
You can add a neatly executed image that has a fallout all over it. Red lighting is also important since it brings out the fallout theme well.
16. Intergalactic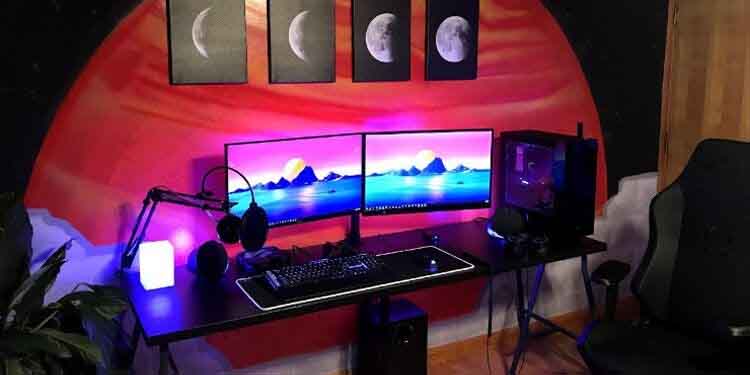 If you're an enthusiast of intergalactic themes, you can try something otherworldly like this. However, ensure you neatly hide the wires under the gaming table to reduce accidents.
You can place large lamps on both sides to make it look much better. Alternatively, the kitchen bar spotlight can enhance the setup lighting.
17. Podcaster's Natural Habit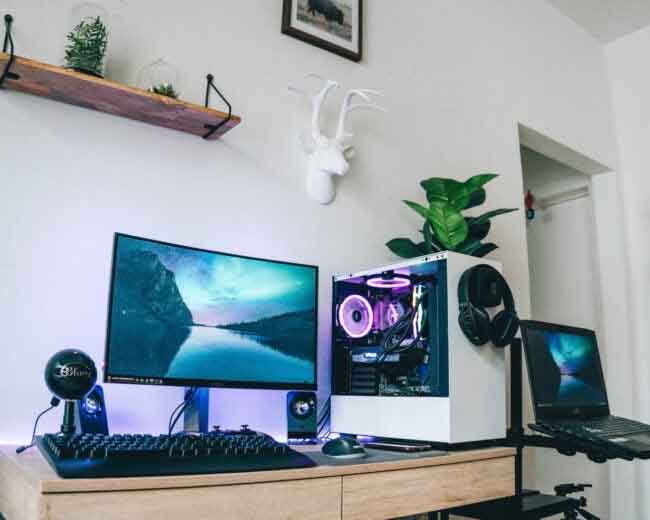 You can pull up this idea by adding a microphone, podcaster calling card, and high-quality headphones. The effect is even better when you add a great game desk finish.
The greenery affects the room; it makes it appear more natural and subdued.
18. Streamer Setup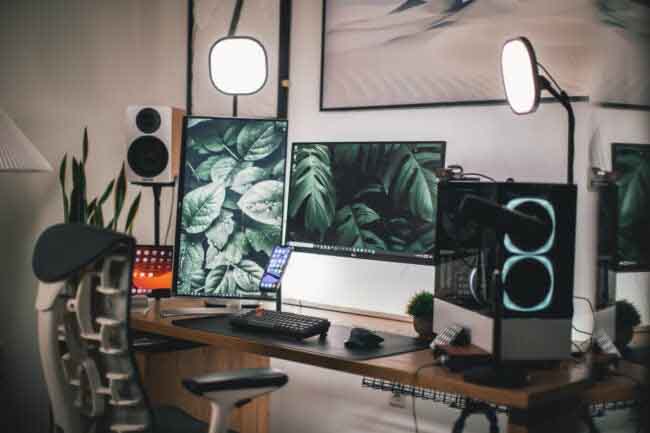 Do you love social media and enjoy chatting with friends online? The streamer setup can be ideal for you.
You can add a decent PC to and monitor; dedicate the horizontal display to gaming and the vertical to chatting etc. In addition, you'll need a high-quality camera and good lighting equipment.
19. Esports Pro Setup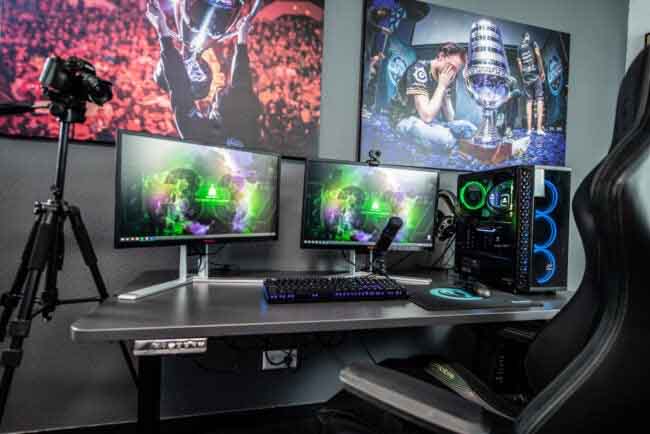 This is the real deal for any esports player, and it's easy to recreate the look and feel in your gaming room.
In addition to your powerful PC, you should include 4K resolution displays to enjoy the play. Add some prints of your best esports moment on your wall to increase the hype.
20. Stylish Browns and Blacks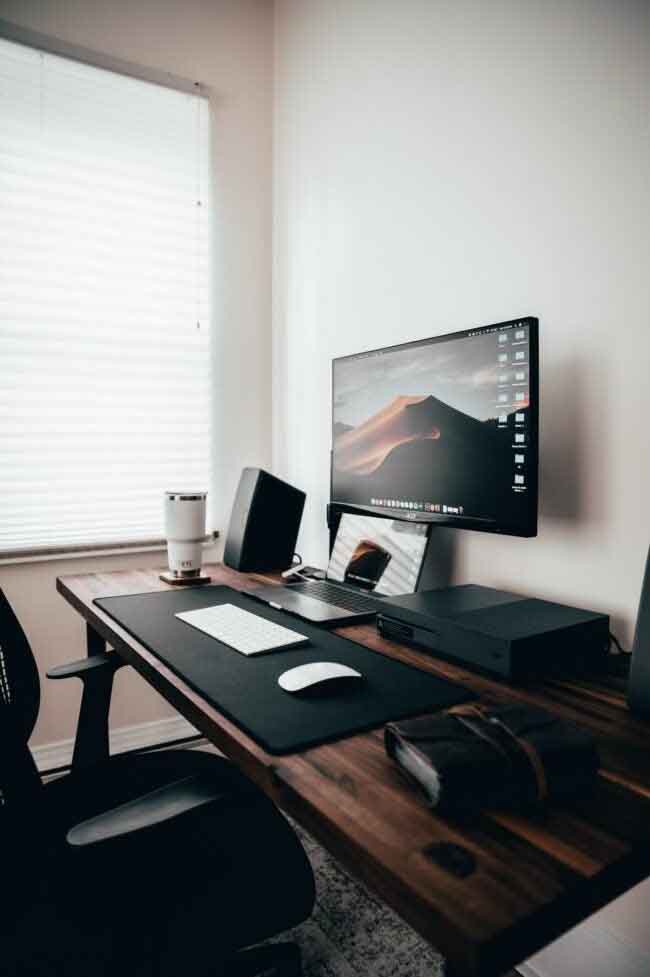 You can class up your gaming room with a floating wall-mounted display and brown walnut desk. When choosing your speakers, mouse, keyboard, etc., please keep it simple with black and white. The elegant black and white PS5 will fit well in this setup.
21. White Theme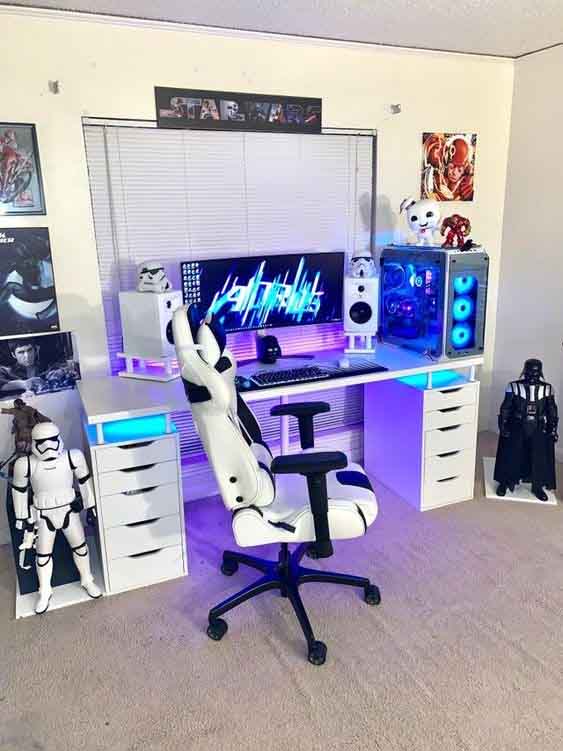 White accents and furniture are ideal for anyone that wants the gaming space to appear clean and bright. It can range from white décor and shelves to cabinets.
You can add plants and lamps to the setup; the white theme will make them stand out.
22. Semi-Pro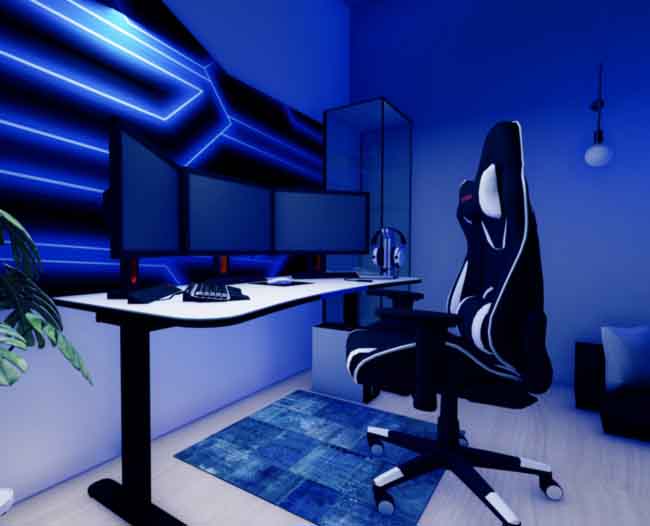 Are you a semi-pro gamer aiming to participate in esports? You can try this amazing setup aesthetic. Add a high-quality 4K display to have a better gaming experience.
Add sleek gaming accessories to make your gaming room appear futuristic. You can include your favorite collectibles, trophies, and much more to give the room a personalized flair.
23. Study and Play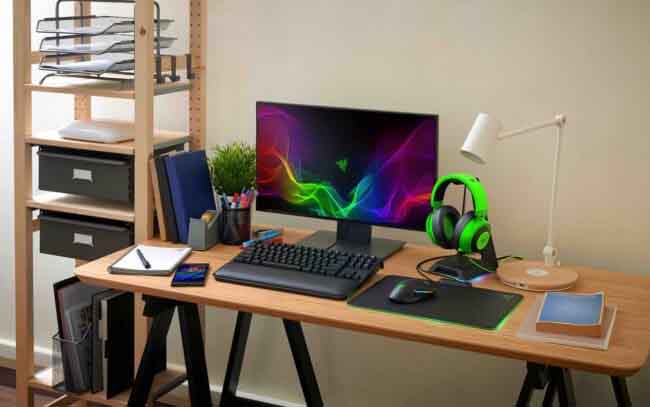 Limited space in the student house shouldn't deter you from enjoying your PS5. There are many smart ways to create a gaming place that can allow you to study.
You'll need a compact gaming desk and a comfortable gaming chair. Many gaming accessories and equipment will peacefully blend with your study environment.
24. DIY Desk and Shelves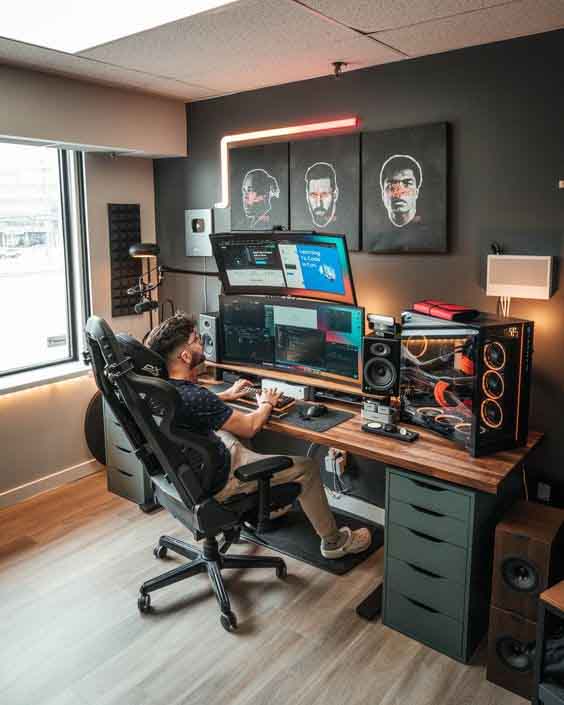 DIY gaming desks and shelves make a gaming room look exceptional, which is why people love it.
The natural wooden surface will effortlessly make the console and ultra-wide display pop. You can attach the desks to shelves that complement them to add to the look.
25. Ultimate Gamer's Paradise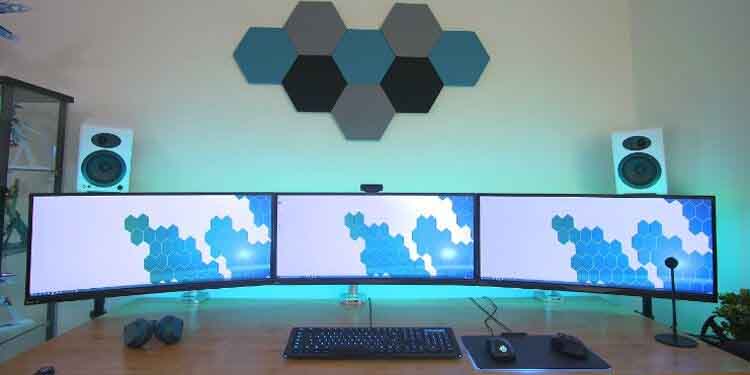 You can have almost all your best gaming accessories, item, and electronics in one gaming room. They can include action figures, an old PS4, and more featured inside a glass cabinet.
Add a small room to store your headphones and other peripherals. It's best when the cabinets are made of glass to make them visible.
26. Couples Setup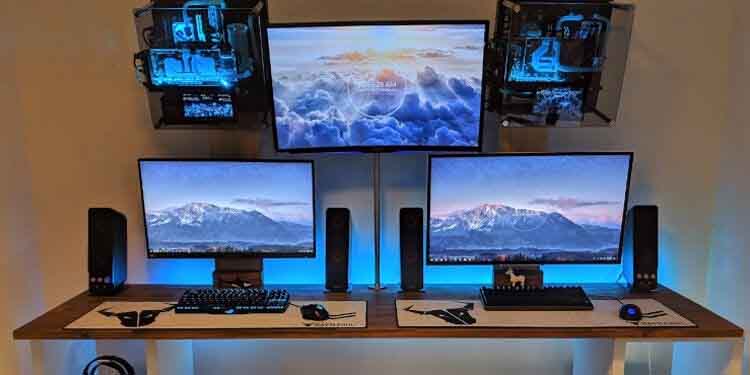 This is the ideal setup for gamers with girlfriends or boyfriends. The image gives you an idea of how to set up the place neatly. Add great lighting to make the gaming room stand out.
27. Zelda-Inspired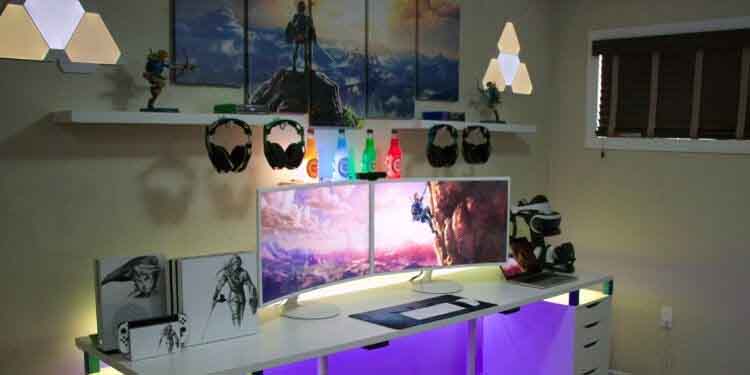 If you love the Zelda character, this Zelda-inspired theme is the best for you. You can execute it well with the right wallpapers, desks, and equipment. You can use light panels to enhance the room's lighting.
28. Mix-and-Match Displays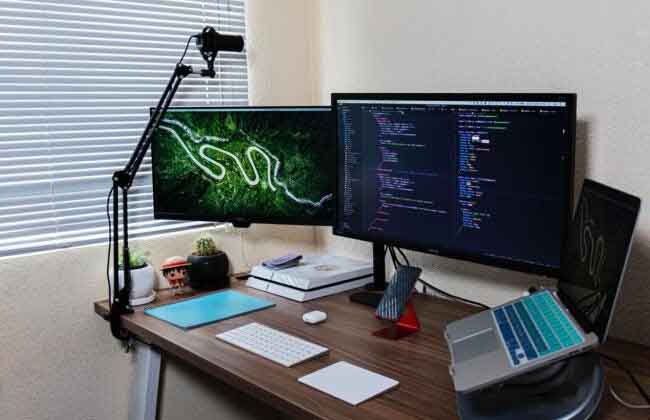 It's one of the best setup ideas for small gaming rooms and those on a tight budget. If everything is executed well, the setup is usually so clean.
Even though compact, the desk should have enough space for your PS5 console, laptop stand, and screen. Alternatively, you can mount it on the wall to have more space on the gaming desk.
29. Evil Genius Lair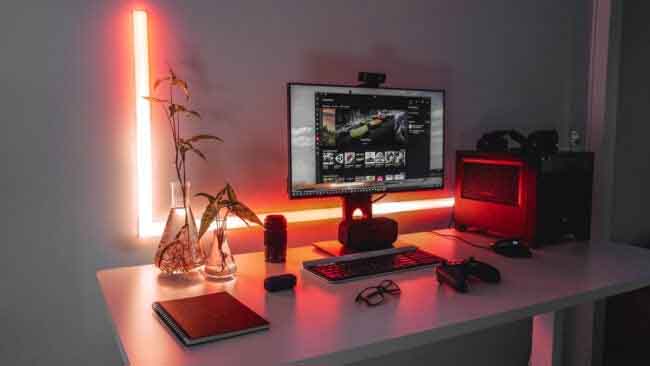 Bad guys know how to appear cool, and the evil genius lair theme will make your gaming room stand out.
Include a smooth desk (preferably white) and a red LED light strip. It'll bring out the mad scientist look. Let the accents do the work in this setup.
30. Minimalistic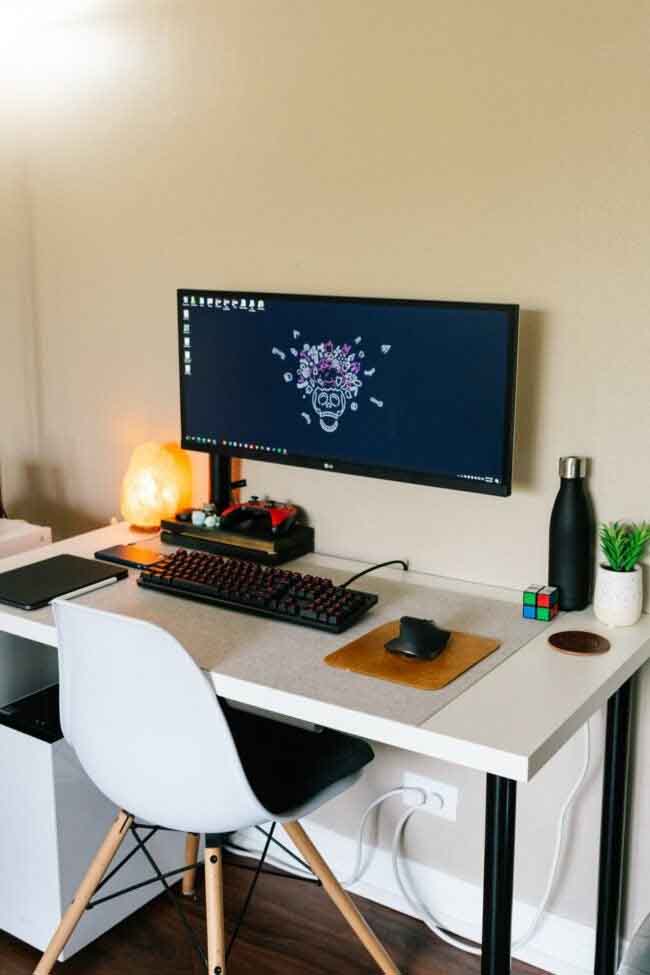 You can choose the minimalistic look; it'll save you money and space. Many high-quality but traditional desks and chairs can bring this set up well.
Remember to add a desk pad and a fashionable mouse pad to enhance this look.
Conclusion
The article lists 30 killer PS5 gaming setup ideas for any PS5 owner. The gaming setup will take your PS5 experience to the next level. There are many PS5 gaming setup ideas out there. Whether you're looking for inspiration or simple, you'll surely find something awesome. The ideas in this guide will help you create a great gaming room.