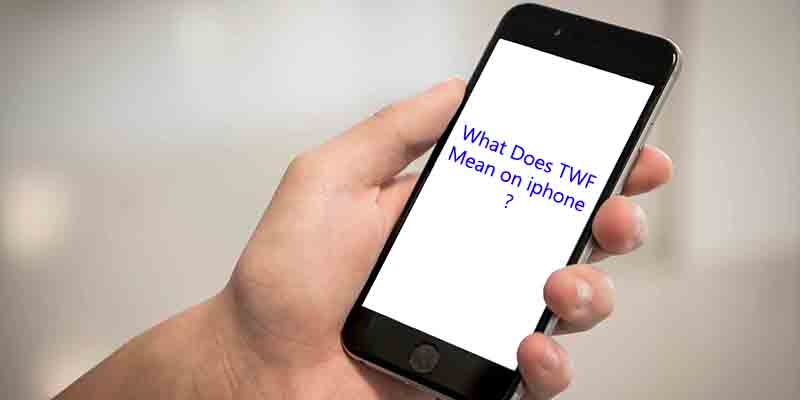 Introduction
You must have seen it and wondered what does tfw mean on iPhone? This is common on iPhone status bars, and you might not know what it is all about. Most people know it has something to do with connectivity, but they don't have any details.
iPhones are some of the best phones in the market, and you need the best networks to enjoy their services.
In this article, we will delve into one of these aspects to see what it is all about and how it is useful to you. Let us look at tfw and see what it is all about;
What Does tfw Mean on iPhone?
TFW is a short form for TracFone wireless, and this is the carrier name for your iPhone. This wireless service provider provides cellular connectivity to subscribed phones and tablets.
So when you see the TFW initial on your status bar, it means you are using TracFone SIM services on your iPhone. TracFone is primarily a prepaid SIM carrier service with more than 20 million subscribers across the United States.
What Is TracFone Wireless?
If you see it on your phone every day, then you need to know what TracFone is and what role it plays for you. There are many wireless carriers in the US market, and TracFone is one of the best choices for small users.
TracFone Wireless Inc. is a prepaid American mobile phone provider. TracFone is Verizon communications' subsidiary, offering a cheaper option for users.
TracFone services and Products come under various brands apart from Verizon.
It operates as a virtual network operator using other companies' infrastructure to provide services for its users. Its headquarters are in Miami, Florida, with more than 90,000 retail locations across the United States.
You can get their services virtually anywhere within the United States. They work with AT&T, T-Mobile US, Verizon, and Sprint, so you can get coverage if you are within a coverage area of any of these companies.
They have a lot of products for customers to choose from; Clearway Wireless for business, Page Plus Cellular, Simple Mobile, Total by Verizon, Straight Talk Wireless, Claro Enterprise solutions, and more.
This prepaid mobile network operator has had more than 400 employees since Verizon acquired it in 2021. This acquisition makes TracFone an American company, and it has been increasing in subscribers since then.
Most big telecommunications companies design their products for users with a high data usage rate.
TracFone is a choice for those with lower data needs and a smaller budget. It will be particularly helpful if you make a lot of phone calls.
Important Things To Know About TracFone Wireless
TracFone Wireless is a popular choice for Americans, and you might want to enlist their services. TracFone is an ideal carrier for most users with light data usage, so you won't spend too much on your telephone bill. Let us look at what you should expect with TracFone wireless;
Network coverage
Network coverage is important for choosing a SIM carrier service since it will affect mobility and signal strength.
TracFone Wireless is an MVNO Mobile Virtual Network Operator with Verizon, T-Mobile, AT&T, and Sprint partnerships.
These are some of the US's largest network and carrier companies, and you probably already use some of their services.
TracFone does not have any wireless network infrastructure. They have a partnership with other companies to use their infrastructure.
By using Verizon, T-Mobile, AT&T, and Sprint's infrastructure, TracFone can offer wireless connectivity to millions of users. Most companies are suitable for big data users and might be too expensive for single users.
When you use TracFone, you will get service from one of the partner companies depending on your location and device.
Devices have different compatibility with certain network systems, so you will get whichever works best in your area for your devices.
If you are already using one of the companies, then you could be able to keep your devices and phone number after the transition.
Plans and Pricing
TracFone is an affordable and popular prepaid carrier service with plans that start at $20 monthly.
For just $20, you will get unlimited text and talk and 1 GB of 4G LTE data. This is more affordable than most other companies and is part of why TracFone is popular.
You can opt for the $25 or $30 monthly plans if you need more data. TracFone is a company dedicated to light data usage subscribers; therefore, they don't have expensive and huge data plans. You can buy 1GB for $10 if you run out of data, but they don't have an unlimited data plan.
There are other service plans, with a few yearly ones with limited data. For instance, their exclusive eBay annual plan has 1,200 minutes, 3 GB of data, and 1,200 texts. TracFone is an option for people who don't use their smartphones often.
Phone Compatibility
Most people prefer to retain their original phone when switching to TracFone. You can do it if your original phone is a GSM-unlocked device.
You can also keep using it if it is compatible with Verizon, AT&T, or T-Mobile and in an area where their services work.
You can check TracFone's website to see if your phone is compatible with their services. If you have to get a new phone, TracFone sells some devices for new subscribers, and most of their phones are below $300.
This is an affordable option for most people, and they are mostly new or refurbished Apple, LG, Samsung, and Motorola phones. Most high-end devices will be compatible with most networks and should work with TracFone.
Service Features
As you know by now, TracFone is a low-budget carrier service provider. This means they don't have many premium features for their subscribers. The biggest perk you will get is unlimited rollover data since it is a low-priced carrier.
You will get features like video streaming at DVD quality of 480p and Wi-Fi calling if your device supports it. You cannot use Mobile Hotspot with TracFone wireless.
TracFone is an affordable option for simple phone calls, texts, and a small amount of data. This is not the best choice if you want to stream movies or clock in a lot of online time.
They have a helpful customer service line, and you will not have to wait long to get help. TracFone is the ideal way to save money on your phone bill.
Reasons to Use TracFone Wireless
TracFone is an amazing choice for users looking for a non-contract plan for cellular connectivity. This is a pay-as-you-go plan, and it comes with a lot of benefits. Here are some of the best aspects of using TracFone's non-contract plans;
Affordable Monthly Costs
Prepaid plans offer you the same networks and amazing services at a lower price. With contract plans, you will pay hundreds of dollars monthly for features and data you might not need.
You can pay as low as $15 at TracFone and get data, messages, and talk time. The monthly costs are more reasonable than contract companies, and you will only pay for what you need. If you have a balance, you can carry it to the following month.
This service helps you save money by ensuring you don't waste your internet resources. TracFone is clear and upfront about all their charges, and you will not incur shady additional fees.
More Freedom
Contracts are legally binding, and you must adhere to the company's terms when you use telecommunication company services. There is no contract with TracFone; therefore, you have the freedom to do whatever you need.
You can stop spending, add more data or upgrade your device any time you want to. TracFone has many plans, so you will get a comfortable choice regardless of your budget.
Many phone choices
TracFone is a flexible service that will work well for most mobile phones. Big companies like iPhone, Samsung, and LG will be compatible by default.
If you have to get a new phone, TracFone has a long list of smartphones and basic phones for your selection.
This means you have the freedom to choose a carrier as long as it's compatible with the phone. These phones also come at an affordable price since TracFone is all about saving. Their data plans are limited since they are for low-data consumers.
Conclusion
You now understand what does TFW mean on iPhone, and you know a few things about the company. TracFone Wireless is a popular carrier service in the US because of its affordable nature. They have a lot of flexible plans for families, businesses, and single users.
Non-contract carrier services like TFW can be a lifesaver for people on tight budgets. They have smaller monthly fees, more flexibility, and they don't charge overhead fees. If you need to reduce your phone bill, it might be time to try the prepaid TracFone services.