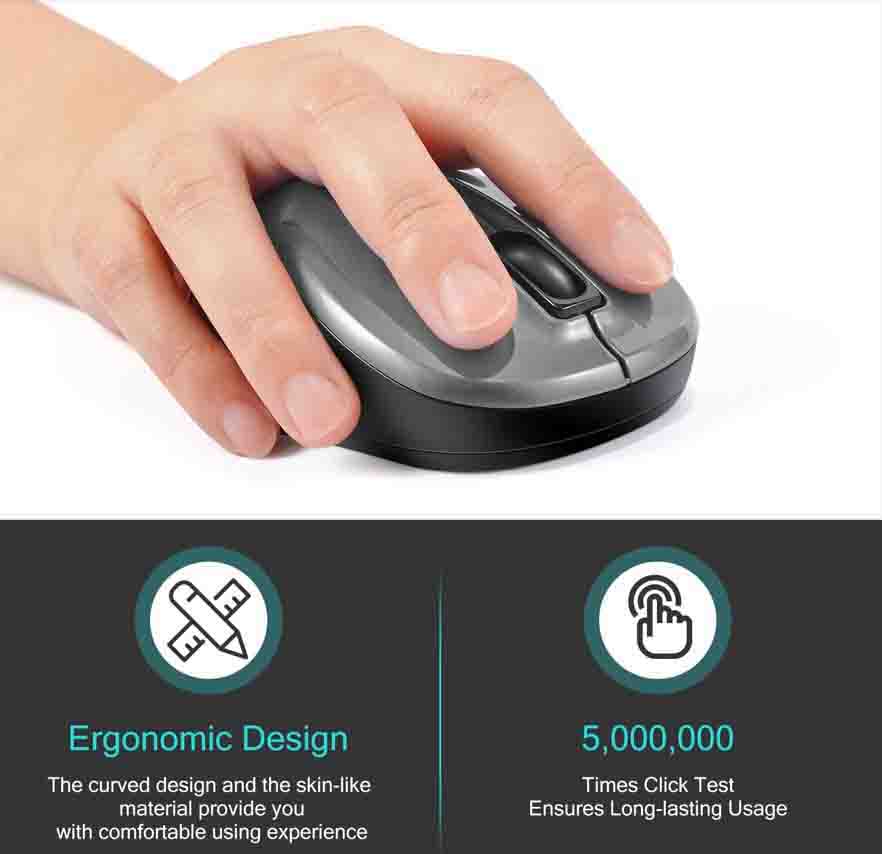 Introduction
Looking for the best wireless mouse for large hands? Say goodbye to discomfort and hello to a new level of precision and performance with our expert recommendations!
We understand how frustrating it can be to use a mouse that doesn't fit your hand properly. That's why we've compiled a comprehensive guide to help you find the ideal wireless mouse for your large hands.
Our top picks consider factors like ergonomics, sensitivity, and button placement to ensure you get the most out of your mouse.
What Is The Best Wireless Mouse For Large Hands?
The Logitech MX Master 3 is undoubtedly the best wireless mouse for large hands on the market.
With its sleek design, advanced features, and ergonomic build, this mouse combines style and functionality.
What makes the MX Master 3 stand out from other wireless mice because its unique MagSpeed scrolling wheel allows you to scroll through long documents and webpages with unparalleled speed and precision.
This feature is a game-changer for professionals navigating through large files quickly and efficiently.
Additionally, the MX Master 3 offers customizable buttons, advanced tracking, and dual connectivity options that make it ideal for both work and gaming.
The Best Wireless Mouse For Large Hands You Can Buy Today
1. LeadsaiL Wireless Computer Mouse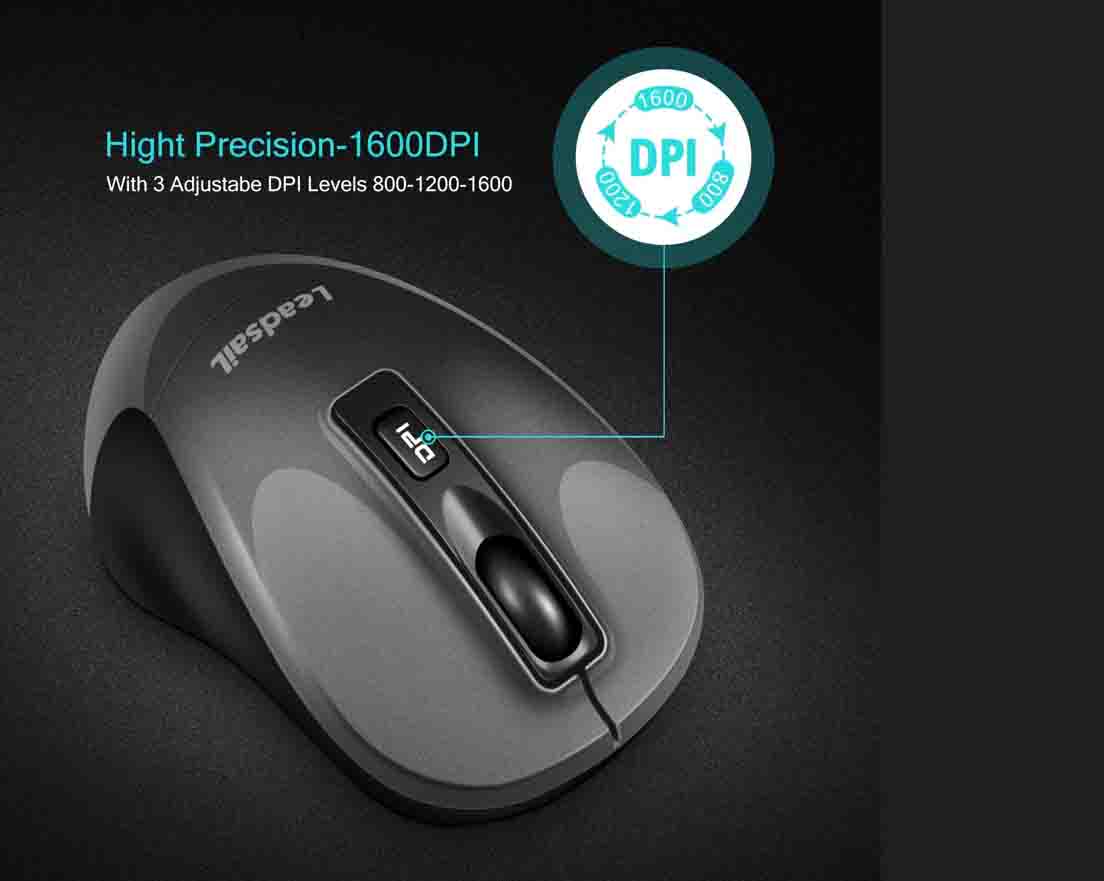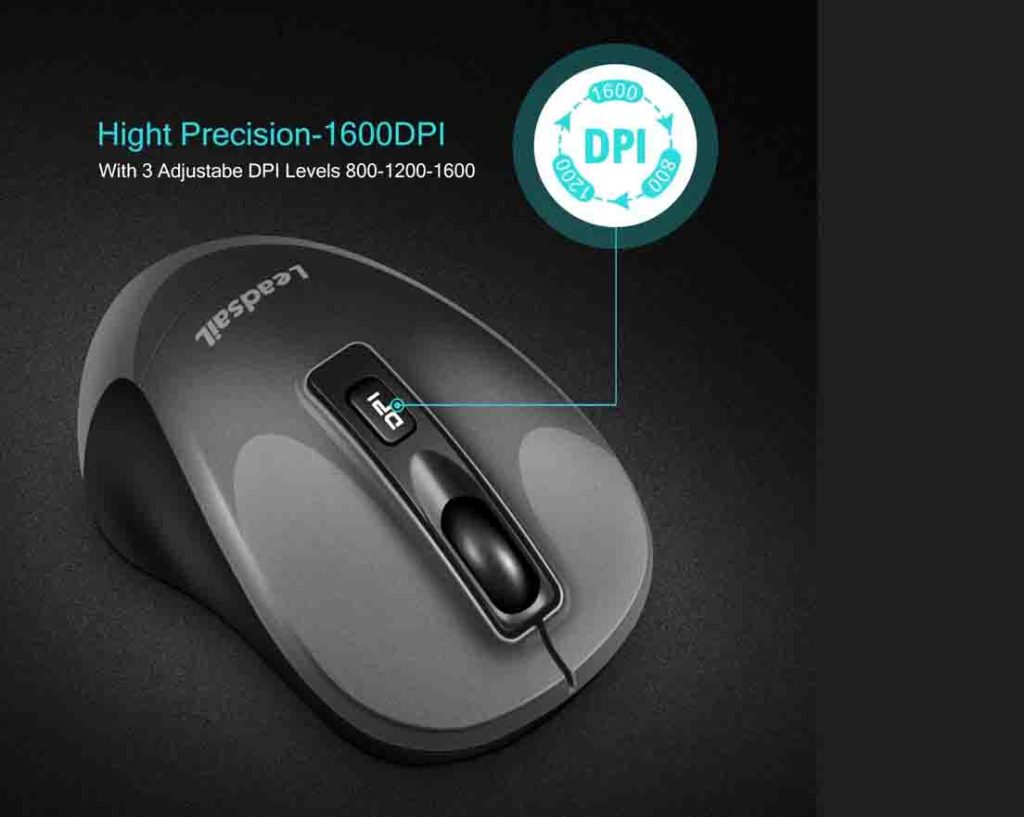 LeadSail computer mouse offers a reliable 2.4GHz connection with a 50ft transmission distance, allowing uninterrupted performance.
The mouse features 3 adjustable DPI settings of 800, 1200, and 1600 DPI, making it easy to change cursor sensitivity based on the activity at hand.
With a longer lifespan of 5,000,000 times keystroke, you will surely get the value for your money in the long run.
It also has a switch button on the back to save power, and after 15 minutes of idleness, the mouse goes to sleep mode.
Its slim, sweat-resistant design provides maximum comfort with a sturdy scroll wheel and rubber grip.
Compatibility isn't a problem either, as the mouse is well compatible with various operating systems, including Windows XP, Windows, Windows Vista, and Mac OS X.
The mouse is easy to use, with a Nano receiver stored in the battery slot and no need for drivers, a perfect solution for anyone seeking a hassle-free and convenient wireless mouse experience.
2. iClever Ergonomic Mouse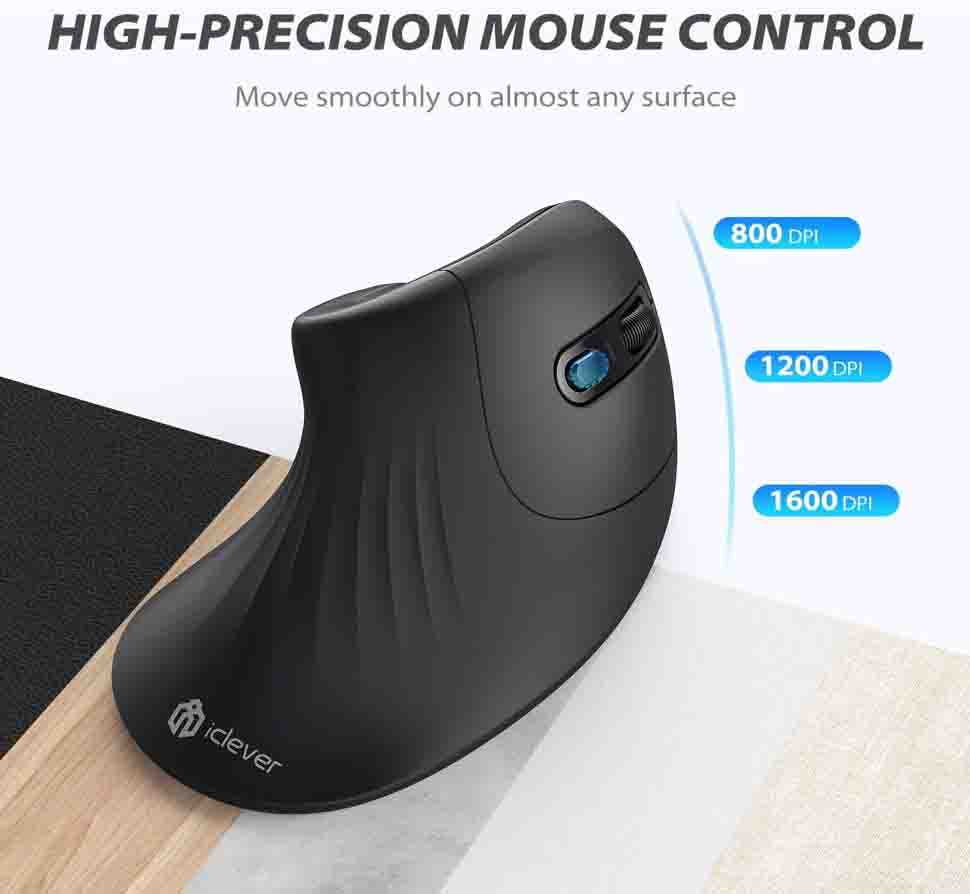 Get ready for the most comfortable and precise mouse experience with the iClever Ergonomic Mouse!
This well-designed wireless vertical mouse is carefully crafted to fit your hand, providing extended wrist support and a diamond-patterned waist surface to prevent sweat during prolonged use.
Tracking has been made easy on almost any surface with its ultra-precise movement and adjustable resolutions of 800DPI, 1200DPI, and 1600DPI.
There won't be a need of even moving your wrist for easier web browsing with the built-in Backward/Forward Page buttons placed above the thumb rest.
Not only is the mouse comfortable and precise, but it also reduces tip noise and improves responsiveness for quieter clicks, improving concentration and productivity.
Plus, with a wireless range of 33 feet and a 1-year limited hardware warranty, you can work from anywhere with peace of mind.
3. Logitech MX Master 3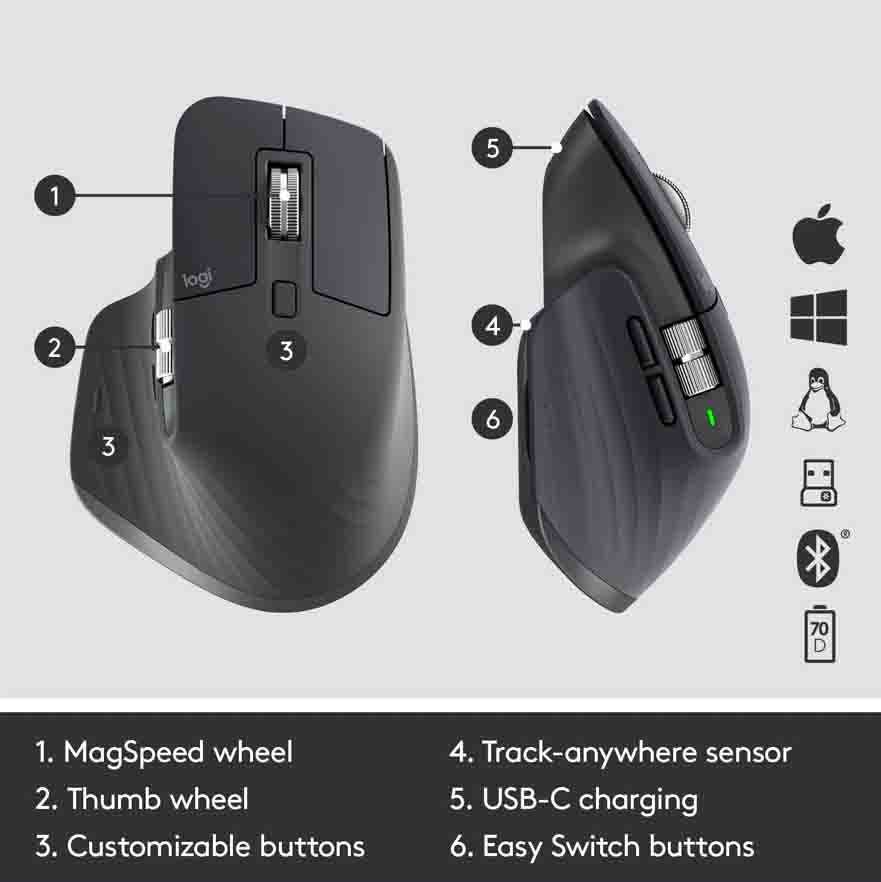 With the all-new mag speed wheel, you can scroll up to 90% faster and 87% more precisely than ever before, all while remaining ultra-quiet.
All-day comfort is made possible by the well-positioned thumb wheel and controls, perfectly shaped for comfortable use.
At the same time, pre-set app-specific profiles and a wide range of customization choices work together to enhance workflow speed.
Additionally, with advanced 2.4 GHz wireless technology and the ability to seamlessly work on three computers, you can easily transfer files, cursor, and text, even between MacOS and windows laptops.
This multi-device and multi-OS mouse works on any surface, even glass, thanks to its dark field 4000 DPI sensor.
And with USB-C rechargeable technology, a full charge lasts up to 70 days, with just a quick 1-minute charge giving you 3 hours of use.
4. Lekvey Left Hand Mouse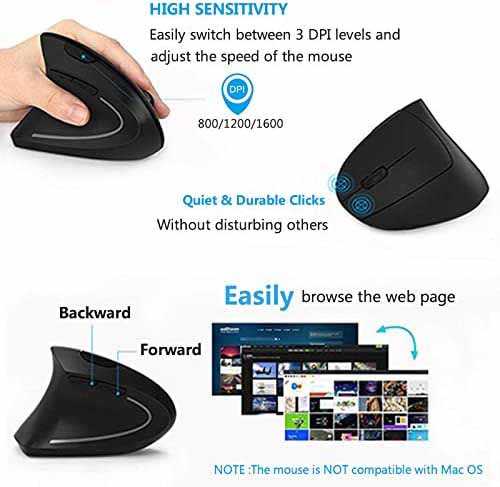 The Lekvey Left-Handed Mouse is designed for left-handed users to encourage a healthy neutral wrist and arm position for smoother movement and less overall strain.
This makes it ideal for those with Repetitive Strain Injuries (RSI) or those who work on the computer for long periods.
It has a strong and reliable 2.4GHz wireless connection with one nano USB receiver at the bottom, making it easy to use with plug-and-play functionality.
With six buttons and advanced "Page Back" and "Page Forward" functionality, this mouse is multifunctional and convenient.
It also features a 3-level DPI and a premium optical engine, allowing quicker response, smoother tracking, and higher precision movement.
The mouse is power-saving, with an independent On/Off switch button and an automatic sleep mode after 8 minutes of idle time.
It is compatible with Windows 7, 8, 10, XP, 2000, CE, Vista, and Linux, making it a versatile option for various devices.
5. TECKNET Wireless Mouse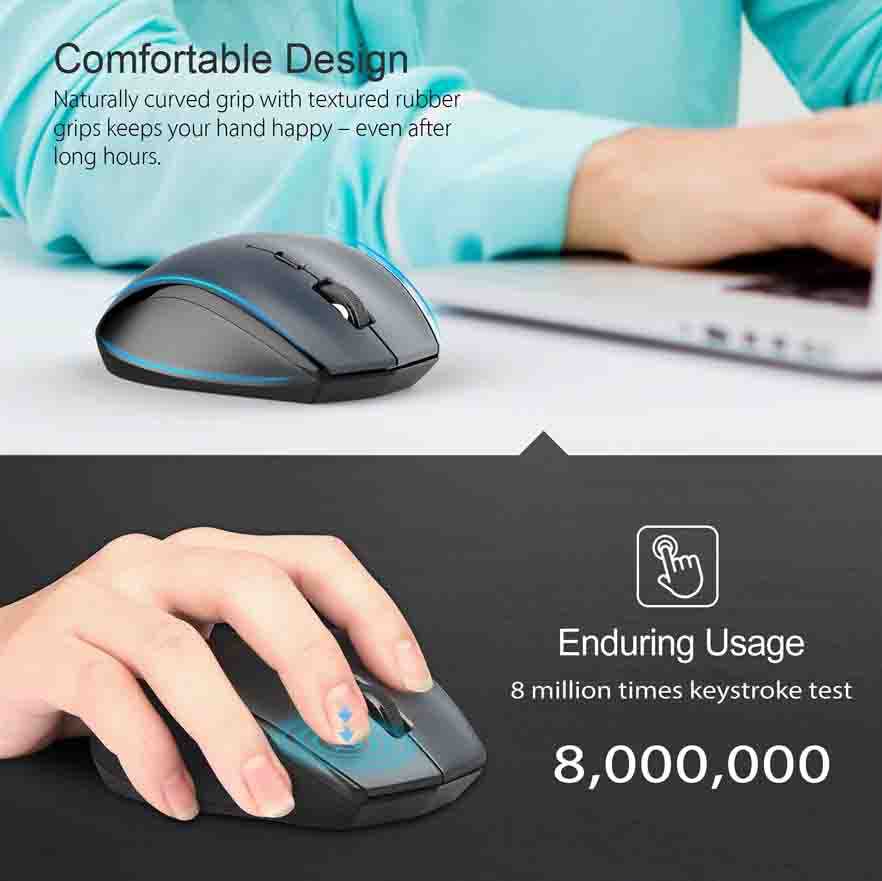 Another mouse for people with big hands that is reliable and high performing is TECKNET wireless mouse.
It comes with six levels of adjustable DPI, ranging from 800 to 3200, and six buttons for easy navigation.
With the upgraded independent power switches and sleep modes, the wireless mouse can enjoy up to 30 months of use time with only 2 AA batteries, making it an energy-efficient device.
Its 15m wireless use range can work without interference or delay. The streamlined curved design, non-slip rubber sides, palm rest, and sculpted design provide unprecedented comfort.
The mouse is compatible with various operating systems, including Windows, Mac, and Linux.
TECKNET also offers hassle-free customer service and a 36-month warranty for this versatile and reliable wireless mouse.
6. Logitech M510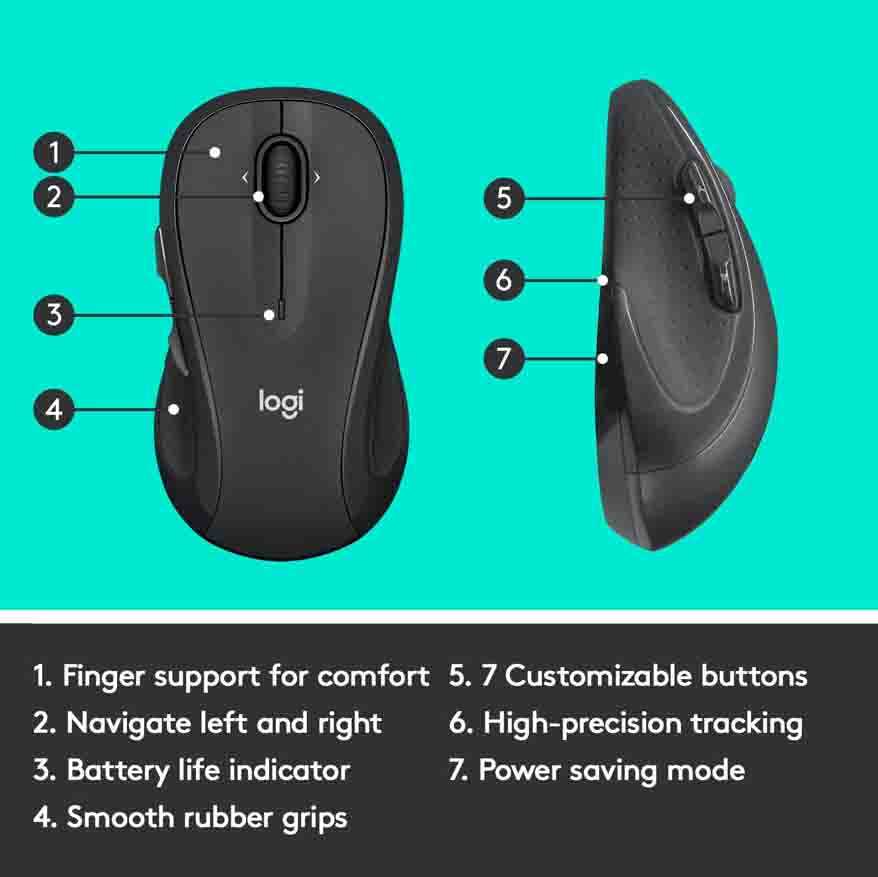 The Logitech M510 wireless mouse is ergonomically designed to provide comfort for hours, with a contoured shape and soft rubber grips.
It offers effortless control with three standard buttons, Back/Forward buttons, and the ability to program buttons for switching applications and going full screen.
The side-to-side scrolling plus zoom feature allows for horizontal and vertical scrolling and zooming in and out.
The mouse has a long battery life of 2 years, an On/Off switch to conserve power, smart sleep mode, and an indicator light to alert you when the battery is low.
It is compatible with Windows, Chrome, and Linux Operating systems. And what's more is that the tiny Logitech unifying receiver can stay in your laptop, and you can easily add compatible wireless mice and keyboards to the same receiver.
7. KKUOD Wireless Trackball Mouse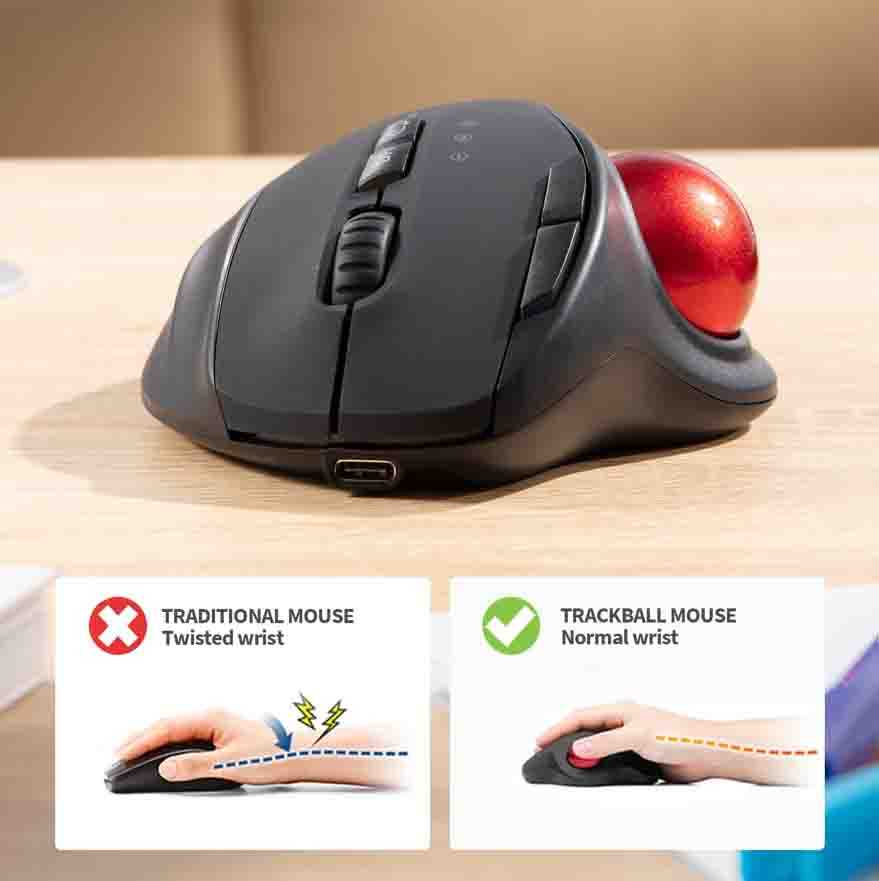 Here is your ultimate ergonomic solution for daily computer needs if your hands are on the larger side of the scale.
This innovative mouse features a smooth and precise trackball that allows your thumb to control the cursor without moving your wrist, reducing fatigue and strain.
With dual Bluetooth 4.0 and 2.4G USB connection modes, you can easily switch between up to three devices for seamless multitasking.
The USB nano receiver is conveniently stored in the bottom of the mouse, ensuring you'll never lose it.
The built-in 600mAh lithium battery can last for up to a month on a full recharge, and the USB-C port ensures easy and convenient recharging.
Easily adjust the cursor sensitivity with the 3 adjustable DPI settings (1000/1600/2400) to meet your needs, and enjoy precise movement, fast response, and smooth tracking.
8. Kensington Pro Fit Full-Size Wireless Mouse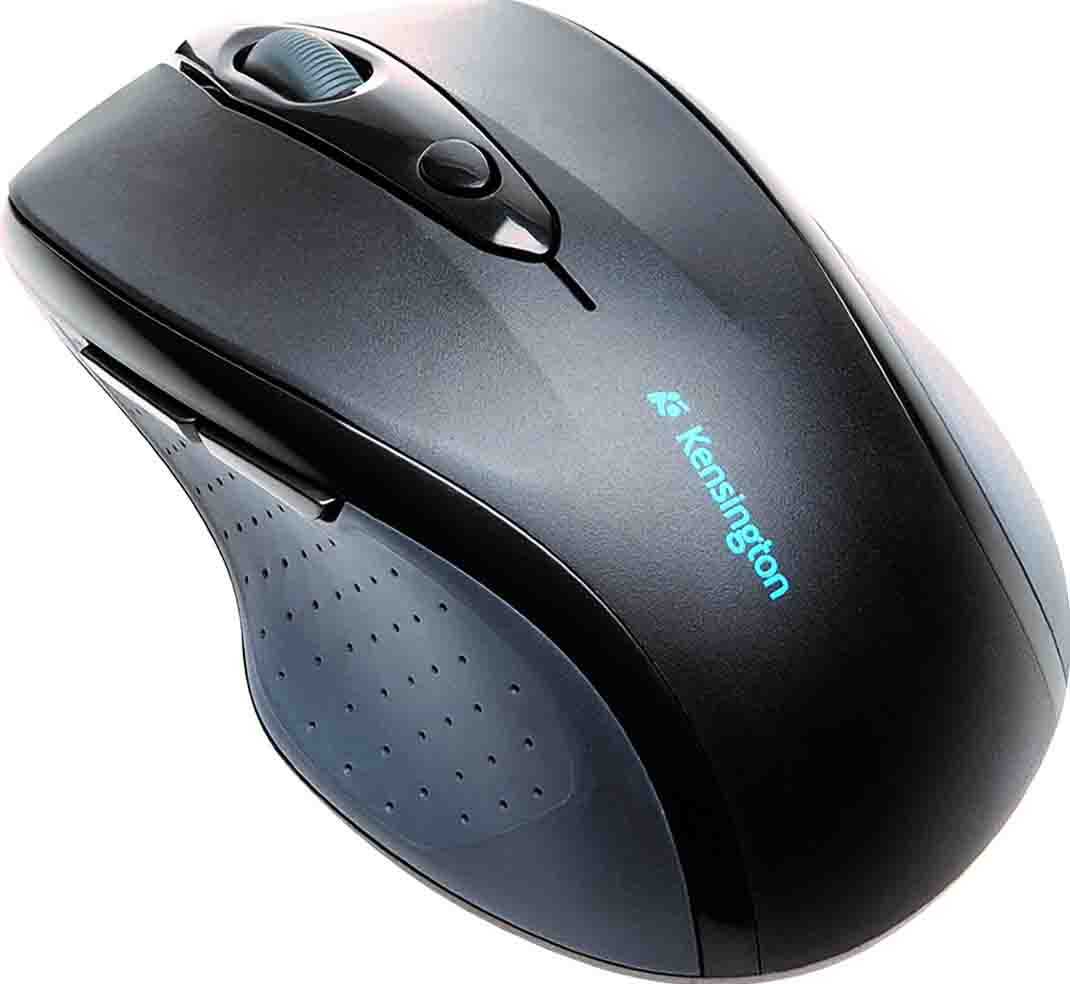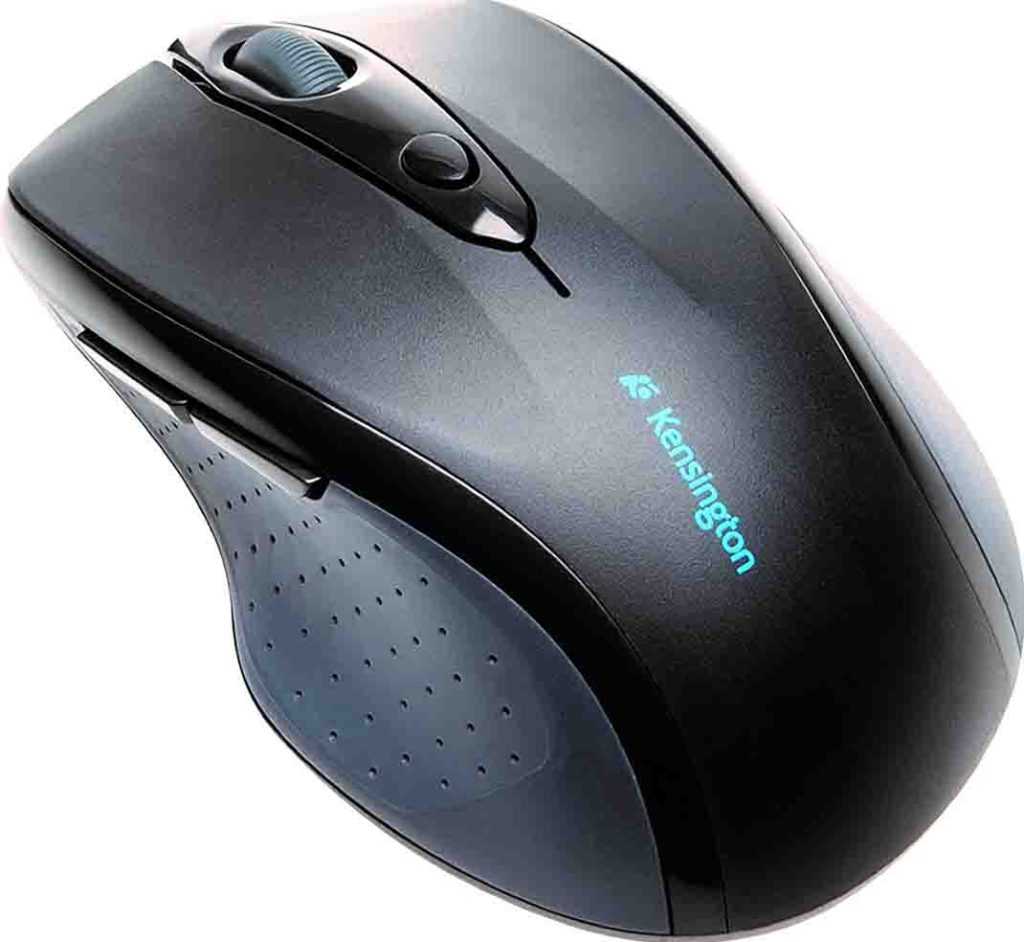 The Kensington mouse is designed to provide the perfect fit for your hand's natural curvature, which boasts a two-button scroll wheel design, ideal for right-handed users.
The soft rubber grip ensures you can use it for prolonged periods without discomfort. With a tracking capability of up to 1200 DPI, you can work with precision and speed.
The DPI Adjustment Button near the scroll wheel lets you change the sensitivity of the mouse, giving you even more control.
Kensington mouse comes with additional features that add convenience to your daily work. The pointer speed quick-select button, Forward/Back Buttons, and plug-and-play compatibility with Windows 8 ensure you can work faster and smarter without any hassles.
9. Microsoft Bluetooth Mouse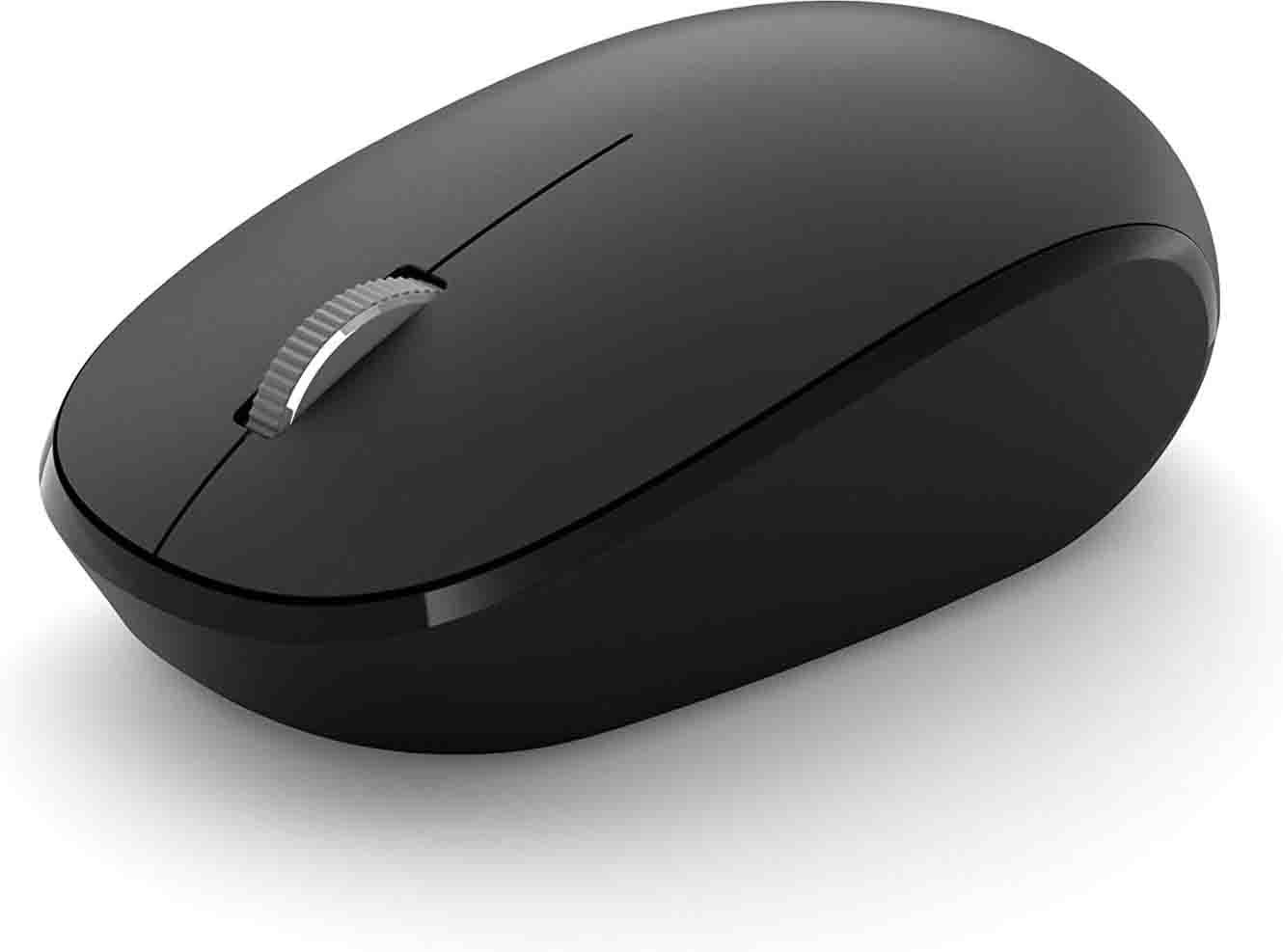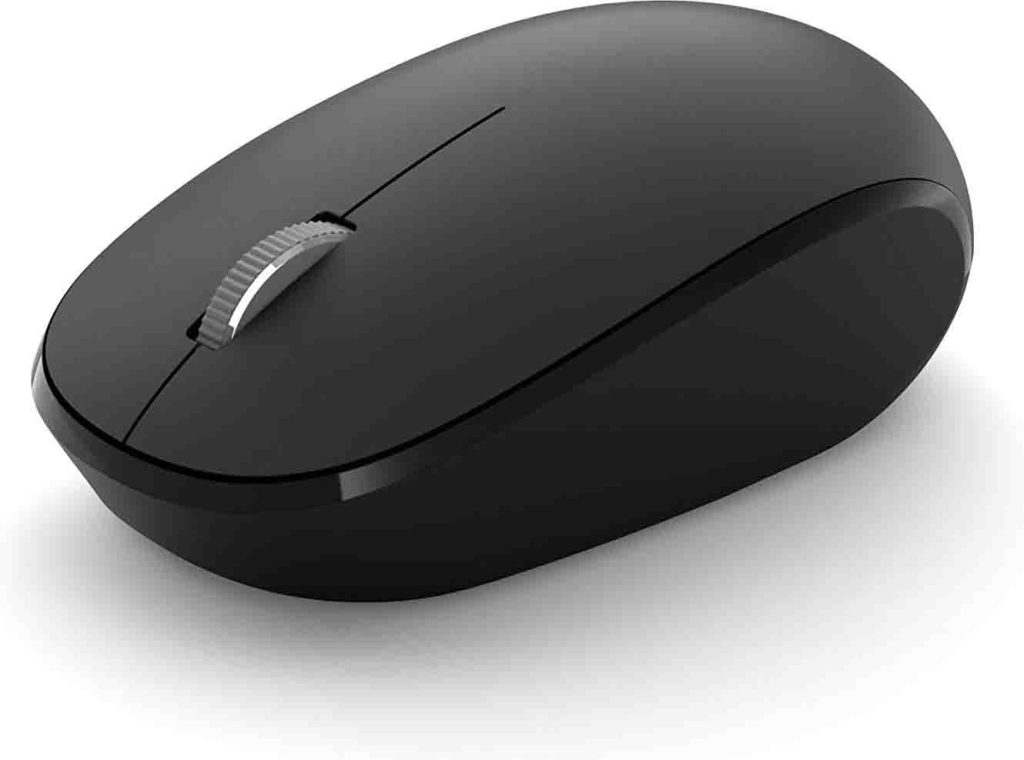 Microsoft Bluetooth Mouse is a simple mouse that's ideal for busy individuals who are always on the move.
Its modern, compact design will fit naturally in your large hand. And with a variety of color options to choose from, including trendy matte black and cool pastel blue, you can match your mouse to your personal style.
Say goodbye to tangled cords and enjoy true wireless freedom with Bluetooth 5.0 LE connectivity, allowing you to work seamlessly.
Plus, it instantly connects to your Windows 10 PC right out of the box with the Swift Pair feature.
You can easily work on any surface thanks to the fast-tracking sensor that provides smooth and accurate tracking. With a dedicated scroll wheel, you can navigate websites and documents with precision and ease. This mouse is a reliable and stylish choice for anyone needing a reliable, portable mouse to handle any task.
10. INPHIC Large Ergonomic Mouse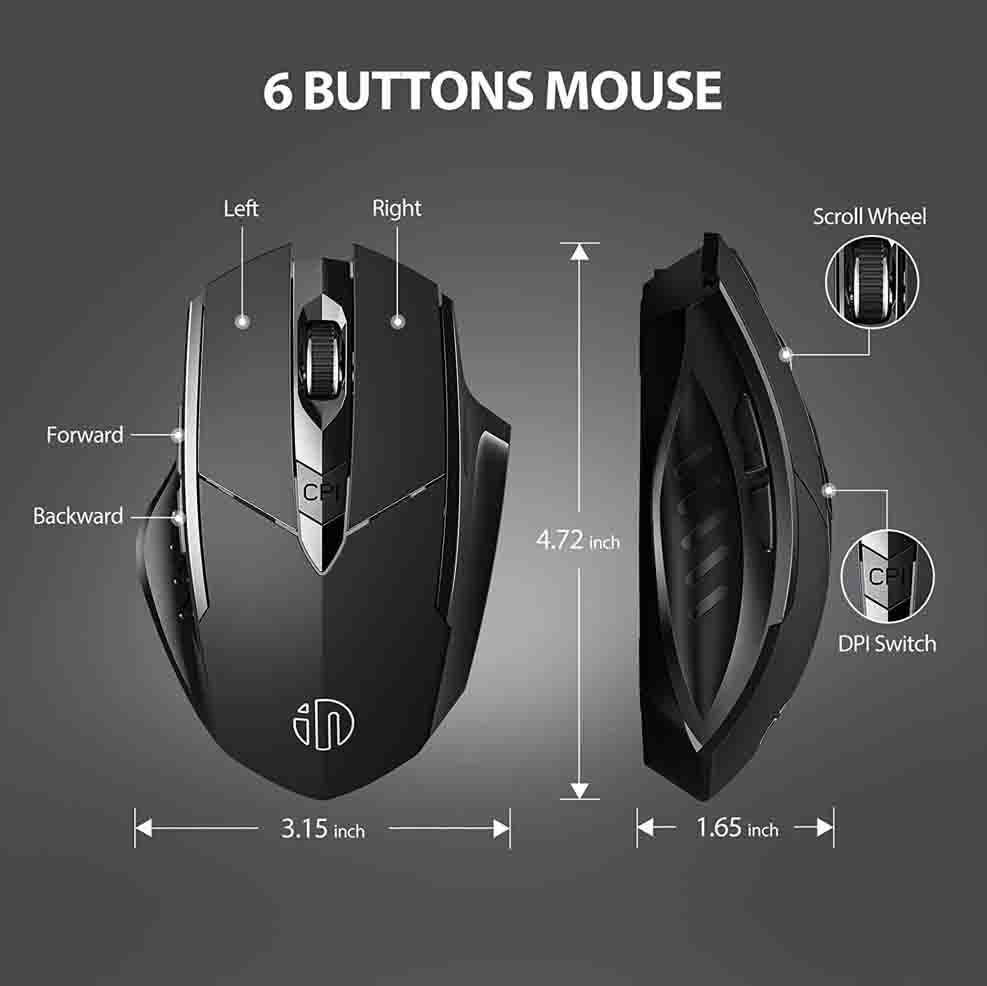 Featuring silent left and right buttons, the INPHIC mouse is perfect for use in public places such as libraries, dormitories, and offices.
The mouse also comes with a blue light indication during recharging and automatically switches off after a full charge, ensuring a worry-free experience for you and those around you.
With a stable connection of up to a 10-meter working distance, this 2.4GHz Nano USB Mouse ensures an uninterrupted experience. The mouse also has six high-efficient buttons perfect for browsing websites and working.
How To Pick The Best Wireless Mouse For Large Hands
A good wireless mouse is essential for seamless navigation and comfortable use when using a computer for extended periods.
However, people with large hands often struggle to find a mouse that fits their hand properly and offers the right level of comfort and control.
Choosing the right wireless mouse for large hands is crucial to prevent hand fatigue, discomfort, and injury.
Now that we've prepared a list of the 10 best wireless mice for large hands, what's next? Of course, it's picking one, but how do you know which is best for your needs? In this section, we have discussed some essential factors for those who have not yet decided.
DPI
DPI, or dots per inch, is a measurement of mouse sensitivity that determines how far the cursor on your screen will move when you move the mouse. Generally, higher DPI means greater sensitivity and more rapid movement.
While DPI is important for gamers who need to quickly and accurately respond to in-game events, it may be less relevant for tasks such as web browsing or spreadsheet work.
However, for graphic artists and designers, a mouse with high precision is essential for fine-tuning their creative work.
Choosing a mouse with the appropriate DPI for your needs can optimize your computing experience and achieve your desired outcomes.
Is the mouse ambidextrous?
Ambidextrous design is a versatile solution that benefits left- and right-handed users. This design accommodates either hand comfortably, making it a great option for those who switch hands frequently.
For left-handed users, the availability of left-handed mice like the Lekvey ensures a comfortable and intuitive experience without the need to adjust to a right-handed model.
However, ambidextrous designs remain the standard for most users due to their versatility, making them an excellent option for anyone looking for a flexible and ergonomic mouse solution.
Weight
A too-heavy or light mouse can cause discomfort and fatigue during prolonged use. A lightweight mouse is ideal for users who need to move the mouse quickly, such as gamers or graphic designers.
On the other hand, a heavier mouse can provide more precision and control for tasks that require accuracies, such as photo editing or CAD work.
However, weight preference varies from person to person, and choosing a comfortable and balanced mouse is essential.
Therefore, it is recommended to try out different weights of mice before making a purchase decision to ensure optimal comfort and performance.
Ergonomics design
Without ergonomics in a mouse, your hand and finger muscles can easily tire out, leading to discomfort and possible long-term health issues.
When searching for the right mouse, it's crucial to consider the sculpted curvature that fits your hand, as well as the inclusion of thumb and pinkie rests.
These features help reduce the stress on your hands, allowing for comfortable use over extended periods. In addition, the material should provide a firm grip that's both comfortable and prevents excessive sweating.
An ergonomic mouse design will also help to minimize the strain on your wrists and arms, reducing the risk of Repetitive Strain Injury. By prioritizing ergonomics, you can ensure a comfortable and healthy computing experience.
Size
When it comes to mice, size does matter, and even among larger models, dimensions can vary significantly.
Length, width, and height are crucial when selecting a mouse, as they can affect your grip style and overall comfort. To ensure the perfect fit, it's important to determine your hand size accurately.
Measure from the base of your wrist to the top of your middle finger, and if the result is over 20cm, you likely have larger hands and may require a larger mouse size for optimal comfort.
Selecting a mouse that is the right size for your hand can help to reduce fatigue, minimize strain, and increase productivity.
Connectivity option
Most modern mice offer Bluetooth, wireless, or both connectivity options. Bluetooth connectivity allows you to pair your mouse with your computer or other devices without a dongle or cable, making it a convenient option for those who value a minimalist setup.
However, Bluetooth may not be as reliable as wireless options regarding latency and battery life.
Wireless connectivity uses a USB dongle to connect the mouse to your computer or device, providing a stable and fast connection with minimal lag.
In contrast, wired connectivity provides the fastest and most reliable connection but can limit mobility. Ultimately, the choice of connectivity option will depend on your personal preferences and usage requirements.
Conclusion
Choosing the best wireless mouse for large hands can make a huge difference in comfort, productivity, and overall user experience. Lucky for you, we've prepared a comprehensive list of the top products.