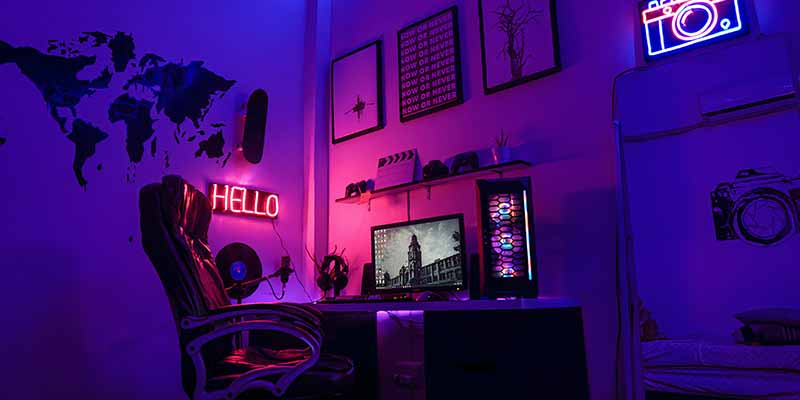 Introduction
Are you looking for the best gaming room wall paint ideas? If yes, then you're reading the right article.
The gaming room should be a place where you can relax and escape from the outside world. And what better way to do that than with cool wall paint?
Picking the right color for your gaming room can be a tough decision. Do you want something calming, energizing, or mysterious?
Whatever your style, there's a color out there that's perfect for you. This article will show you 30 cool wall paint ideas to help you find the perfect color for your space.
26 Best Gaming Room Wall Paint Ideas
Blue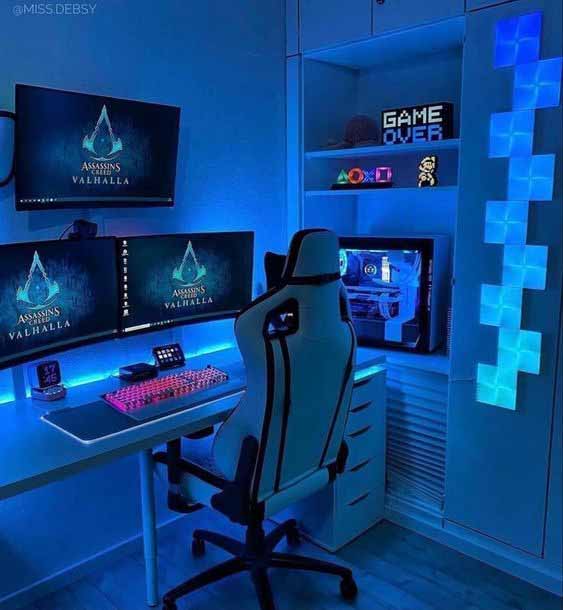 Blue is a calming and soothing color, which makes it perfect for a gaming room. There's a reason why the color blue is so popular in bedrooms and guest rooms – it just feels relaxing. If you want a gaming room that feels like a beach vacation, blue is the way to go.
2. Green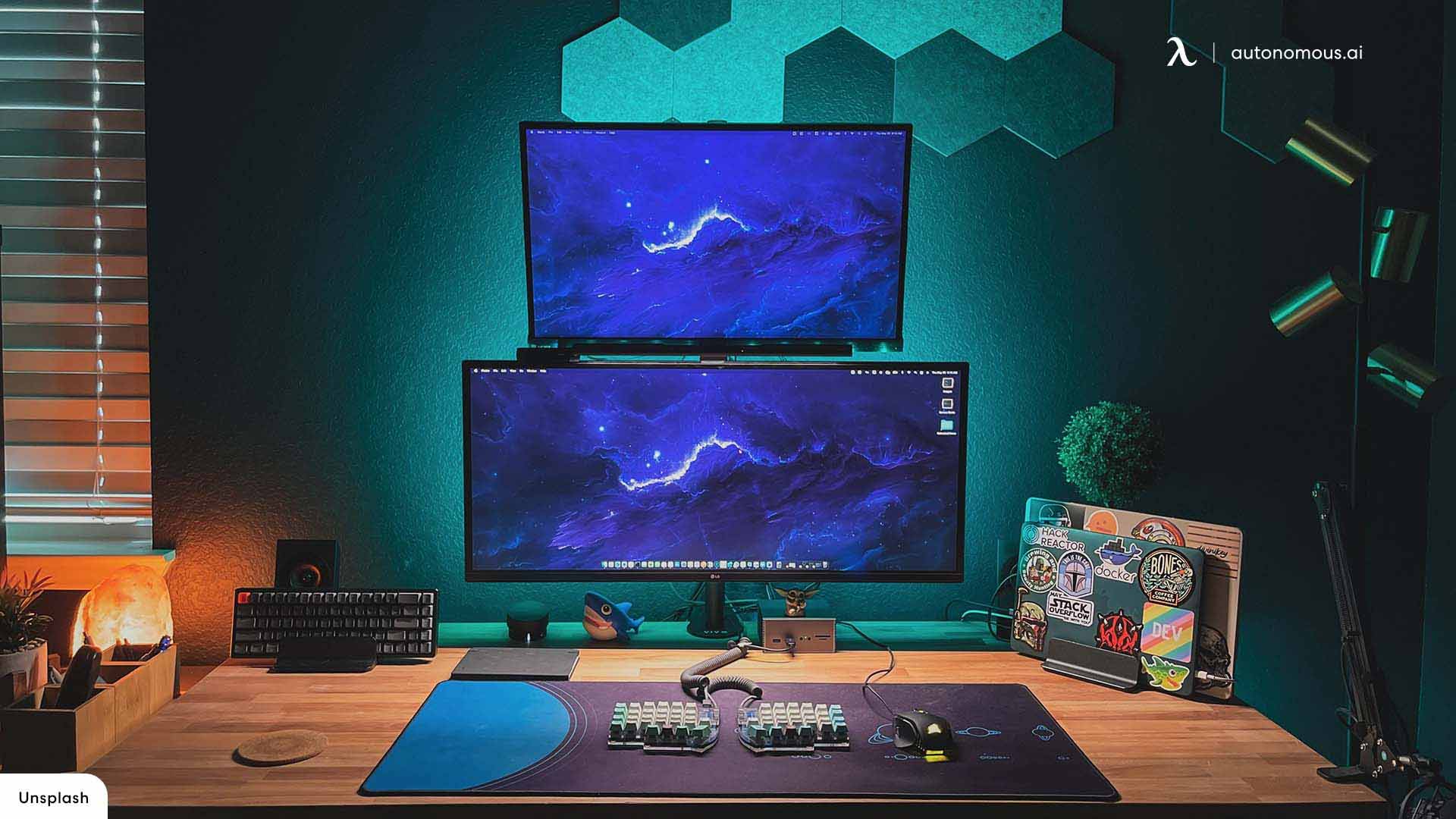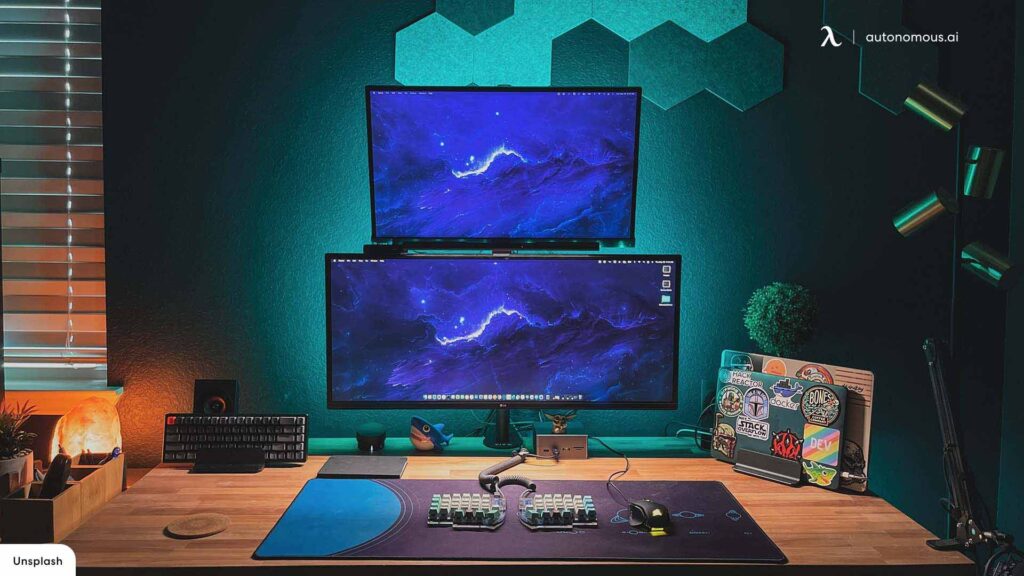 Green is a great color for a gaming room because it's calming and energizing. Green walls can be bold and bright without being overwhelming. A green gaming room isn't a room that's trying too hard to be energizing – it's a room that happens to be naturally energizing.
3. Red
Red is a bold color, ideal for a gamer who wants his gaming room to stand out. There are plenty of different variations of red. So you should have no problem finding the perfect shade for your room.
4. Yellow
Yellow is a bright, bold color ideal for a gaming room that needs some extra excitement. You can use bright yellow or pure yellow. Alternatively, try a yellow-green or a yellow-orange if you want something more muted.
You'll love the yellow wall because it's bold but not overwhelming. In simpler terms, a yellow gaming room is fun and exciting without being too much.
A darker yellow is also a great choice for a gaming room because it isn't as bright or distracting as a lighter yellow might be.
5. Orange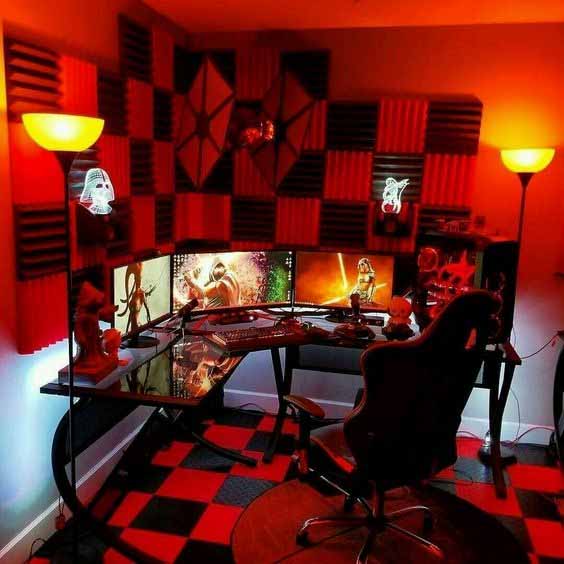 Like yellow, orange is bold, making it ideal for a gaming room that needs some excitement. There are several shades of orange to choose from.
You can implement warm orange colors to add some personality to the gaming room. Plus, different orange hues create that elegant ombre effect.
6. Red and Black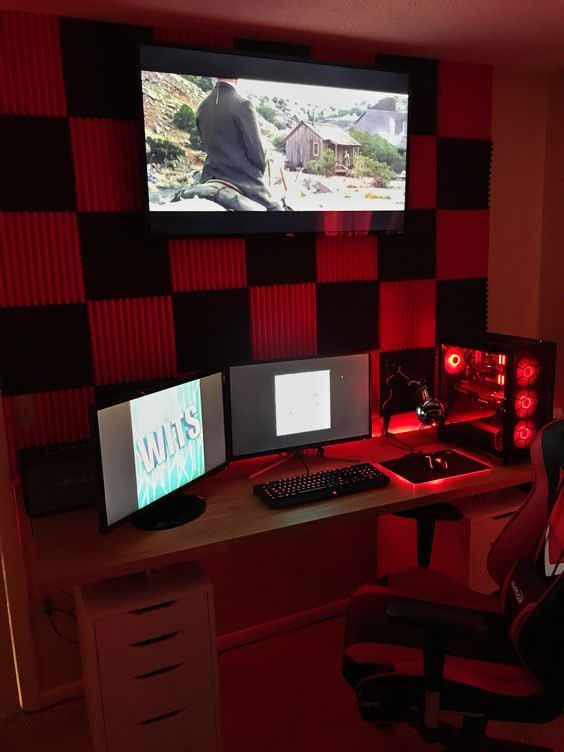 The red and black color scheme is common in many popular games, such as Need for Speed. The red color is also used a bit in racing games. So, if you're looking for a racing game theme, you should choose red and black colors. The combination of red and black is also ideal for a space-themed room.
7. Orange and Blue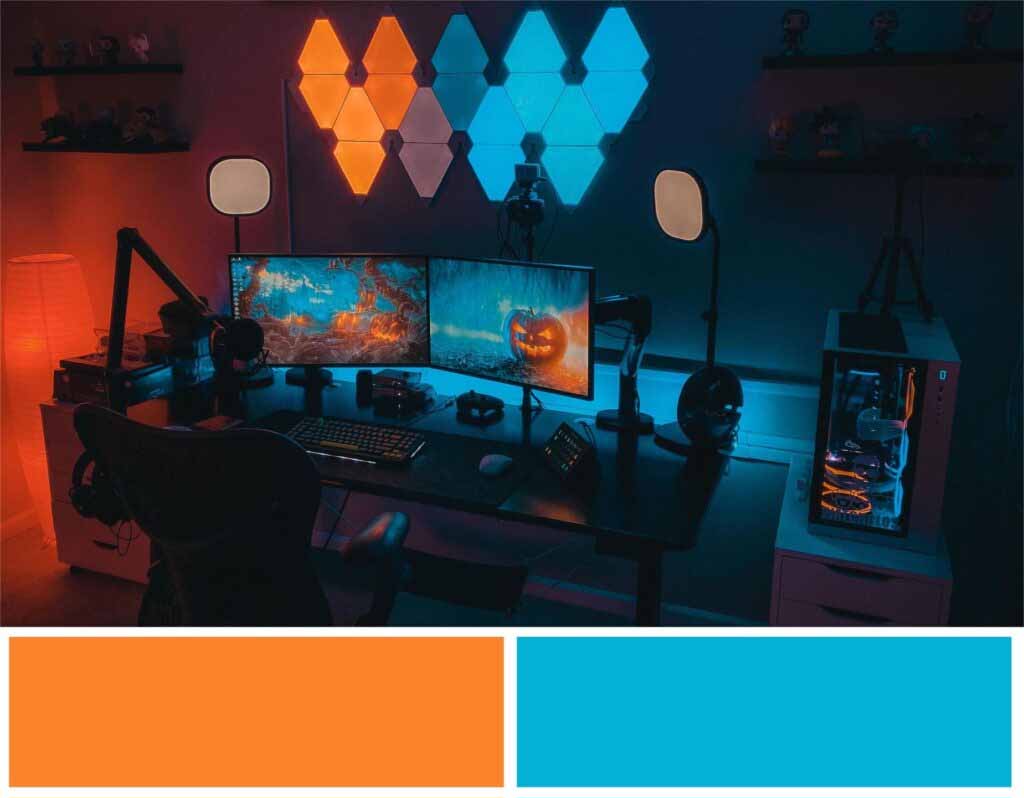 These two colors are somewhat complementary and will bring a great theme to your gaming room. The setup hugely relies on the contrast between blue and orange. You'll love the effect that this complementary color scheme will have. Note that you'll need to utilize lighting strips and RGB panels to have rich color.
8. Gray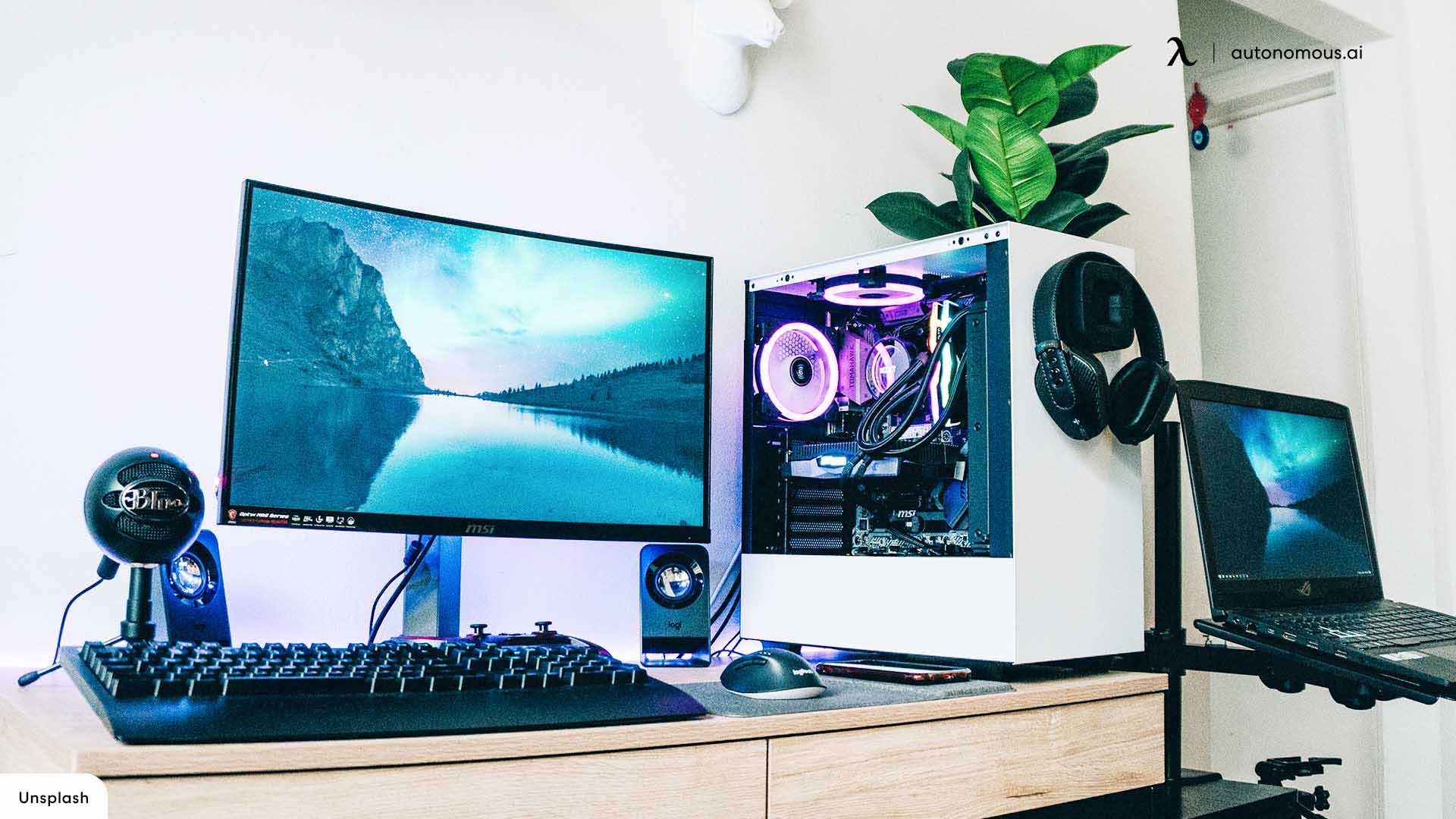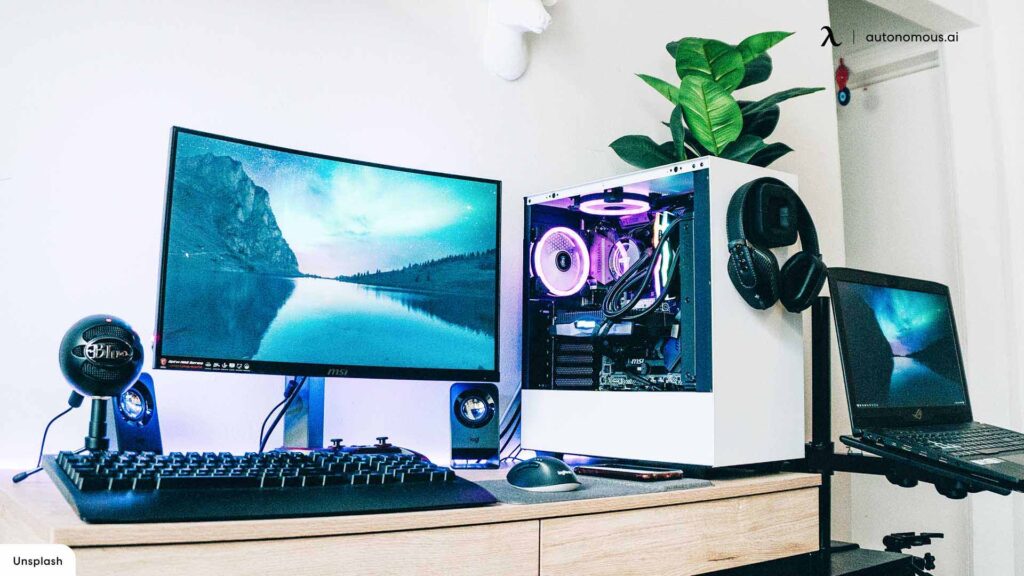 It's an amazing gaming wall color because it is neutral balanced, and elegant. Although it's a bit plain, gray can work well with any background color. You can combine gray with black, natural wooden accents, etc.
9. Black and Gray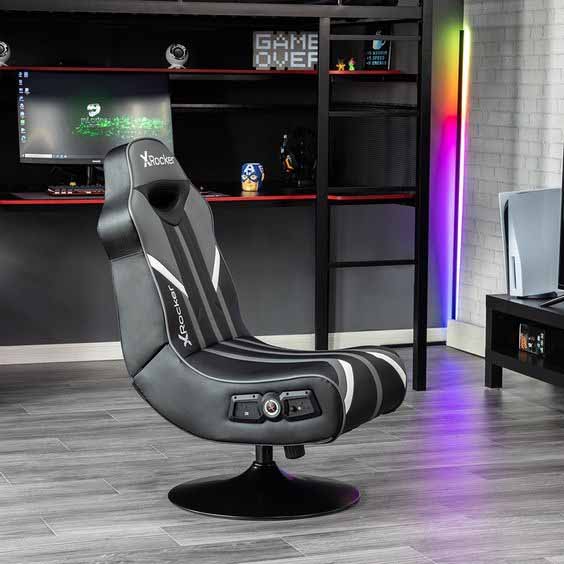 The black color is elegant, bold, and timeless, making the shade good for decoration. However, black walls are known to suck up light, which makes them intimidating.
But you can go big with black by adding gray. The gray color is edgy and modern yet classic and timeless—the combination of black and gray suits every gaming room, setting, and mood.
10. Pink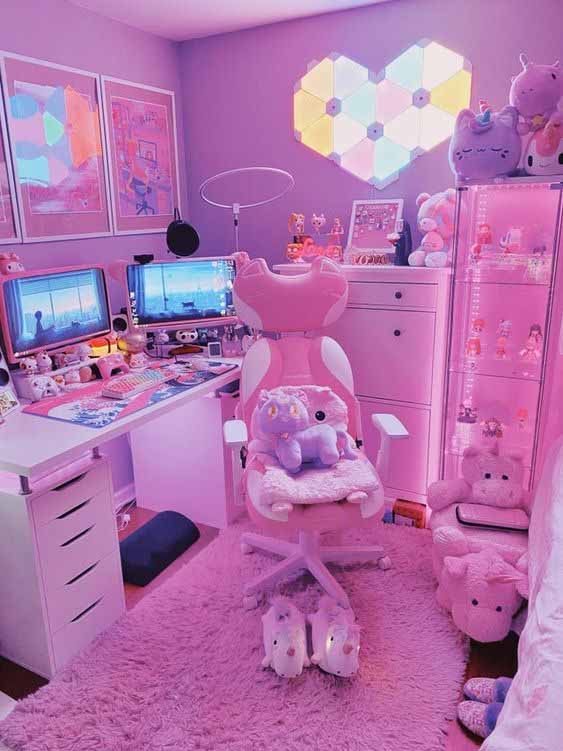 There's something cute and kawaii about a pink gaming room. Tones of purple and white colors will work great with the design. You can add posters, tapestries, and other figure collections to make your wall more appealing. The lighting you choose should be able to complete these desired aesthetics.
11. Black and White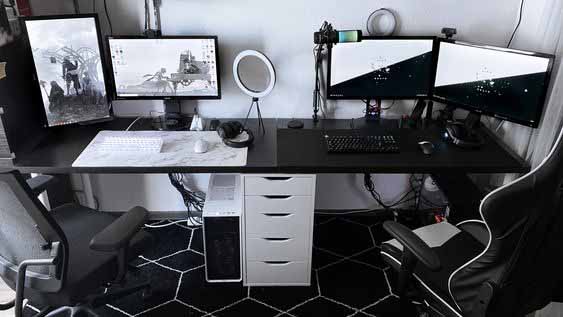 Many gaming accessories are available in either black or white – therefore, they're an easy color scheme to work with.
It's recommended that you don't use normal lighting if your walls have black and with colors. Instead, use the "gaming mode" LED lights, and you'll be amazed by the completely different look.
12. Black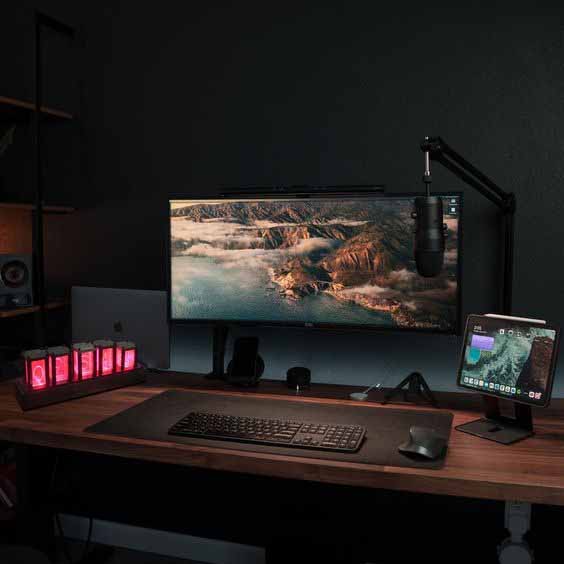 A black gaming room wall is magical and mysterious but will help you get an extra focus on your games. This color hides the details making the room appear more enveloping and larger.
The great part is you can style a black room however you want. It pairs well with other colors and differently colored accessories.
13. Brown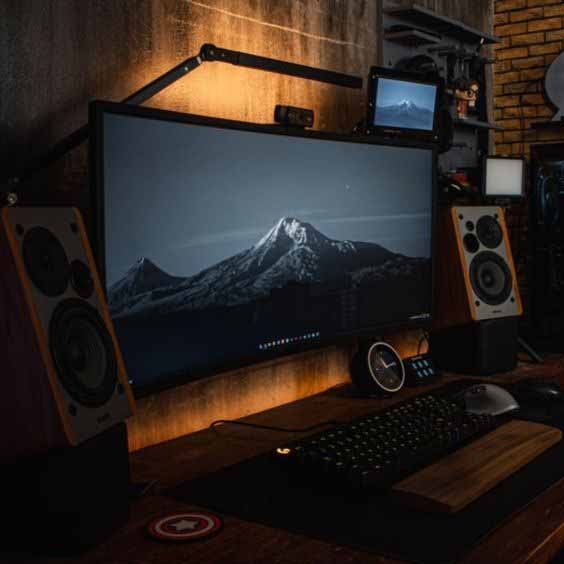 A brown gaming wall creates a simple and comfortable rig that doesn't need dramatic objects or lighting. Most interior designers recommend using a natural brown tone and then matching it with similar tones.
You can include raw wood elements, including desks, and also add plants to get that rustic look. Overall, the brown color looks cozier but less modern.
14. White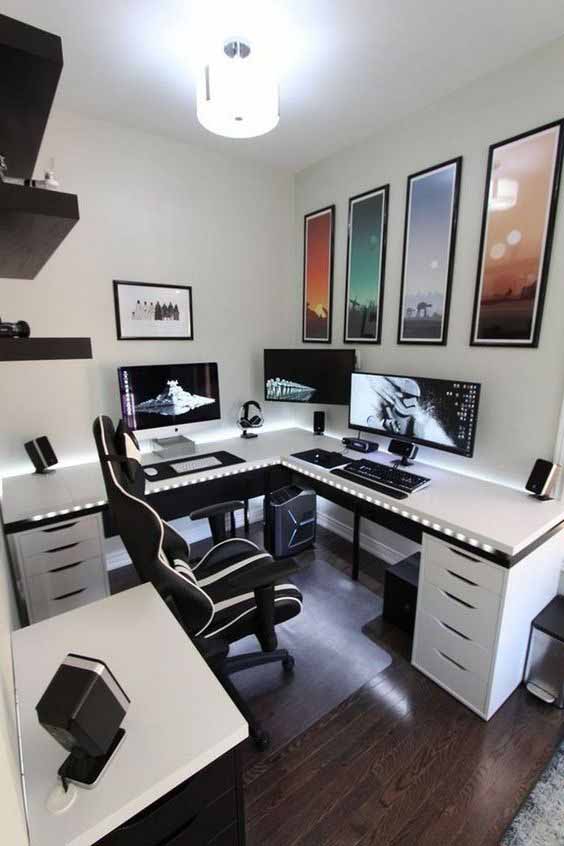 The white color makes small gaming spaces appear larger and brighter. Choose a matt or gloss white; they reflect less light. You can go for a textured white if you want something that hides dirt well.
Amazingly, white is easy to pair with other colors if you change your mind. You can pair it with black, pink, lavender, and a natural palette.
15. Mustard Field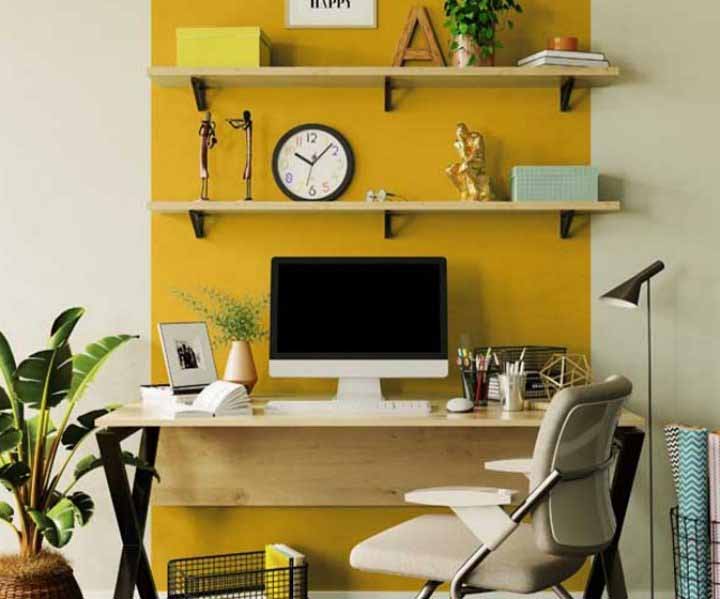 Mustard seed yellow is quite a powerful color for your gaming room wall. In several ways, it's a color of contradictions, warm yet cocooning, bold and muted, and cozy and energizing. However, one thing is certain: the mustard yellow will bring a positive vibe to your gaming room.
16. Lake Stone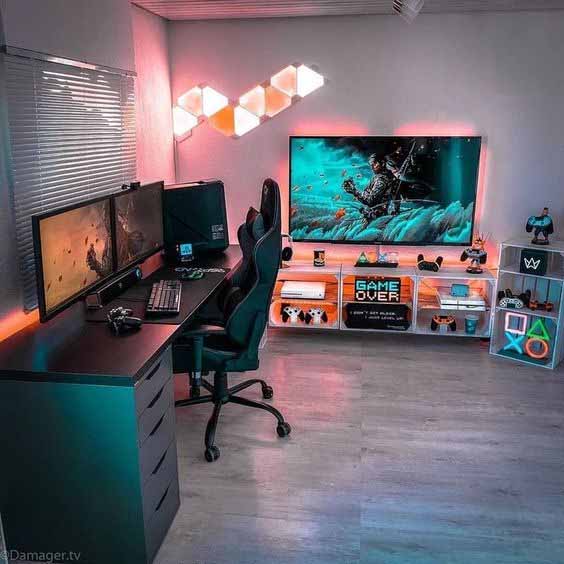 The lake stone wall color is an absolute choice for a game room since it is entertaining and relaxing.
This interior paint color will influence the room's ambiance making your gaming experience more satisfying and comfier. It'll surely make the gaming room the best go-to place in your home.
17. Purple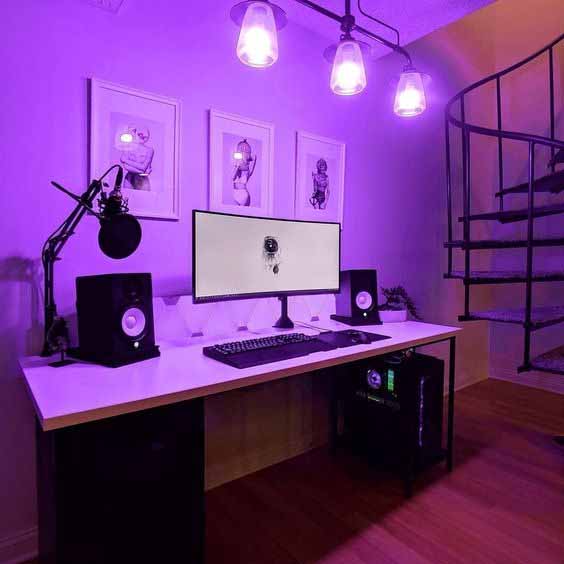 Purple is bright, bold, and ideal for any gamer who wants to saturate their gaming room. Purple has long been associated with royalty and luxury and is a great interior color that'll add sophistication and flair to a gaming room.
You can ease the depth of purple by decorating other parts of the gaming room with white and brighter shades like gray.
18. Cream
Who says cream is boring? This neutral is the best paint color for a gaming room; versatile, warm, dependable, and subtle. The super-light taupe shade will contrast well with a crisp, bright interior.
Cream color injects some warmth into your gaming space. Add pops of cheerful colors with décor, mouse pads, or a keyboard, or keep it classic.
19. Lemon Yellow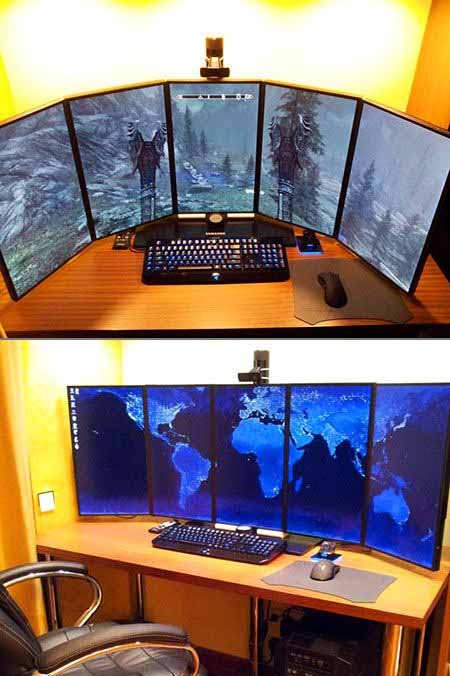 It's a good idea to check the color wheel before the game room decorating process. The yellow color represents cheer; if you need something to spread energy and cheer, this is the color for you. You'll love the bright walls that add an extra playful element to the gaming room.
20. Red Lacquer and Crisp Light Blue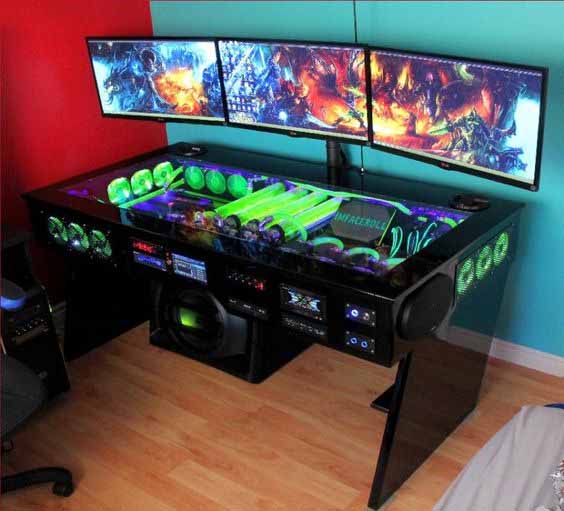 Here is definitive proof that red and blue colors go together well. This gaming room has a breath of fresh air, thanks to the blue color.
On the other hand, the red lacquer color is bold yet timeless and calming yet high energy. If done right, the finish will feel great, and the pop of color will be chic and warm.
21. Varying Shades Of Blue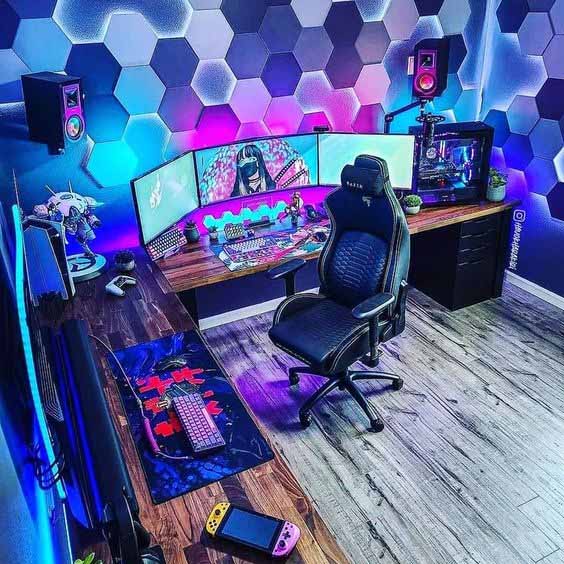 Blue is calming, like the sky and sea; it's a breath of fresh air. There are different shades of blue, and you can decide to use the ones that you love most.
Applying the varying shades of blue throughout your gaming room will make it look glowing.
22. Greige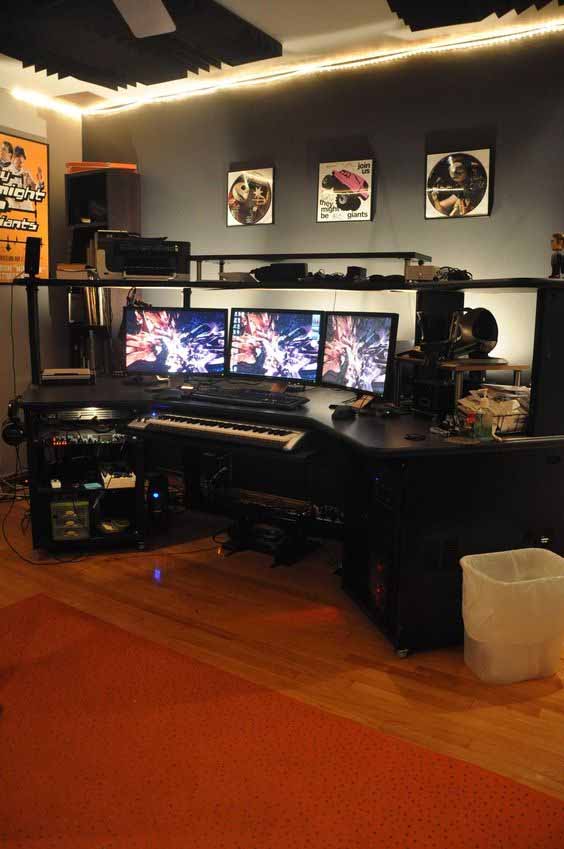 The Greige is simply a blend of beige and gray. It's appealing to gamers that like the gray look but aren't sure about leaving the more traditional beige feeling.
Greige is a whole-house paint and a popular choice by many because they tend to blend with everything.
23. Mint Green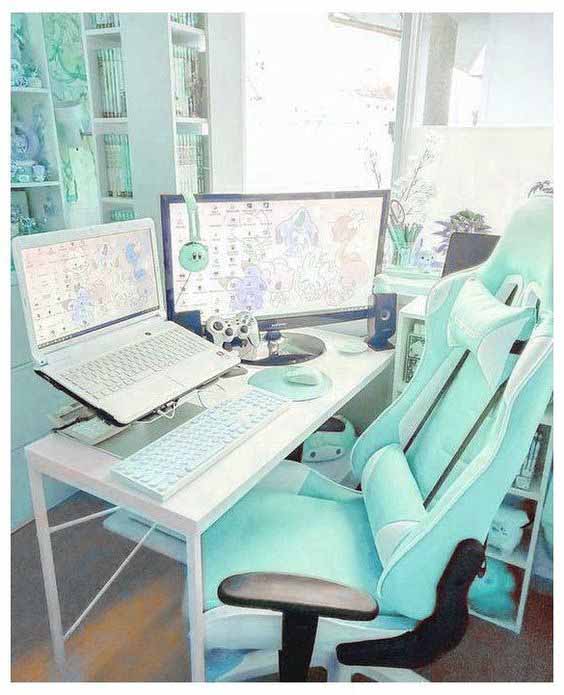 Mint green is a serene and relaxing color often used in gaming rooms. The key is always to keep it air and light; it has enough saturation. Mint green is an ideal option for several different styles.
24. Sky Blue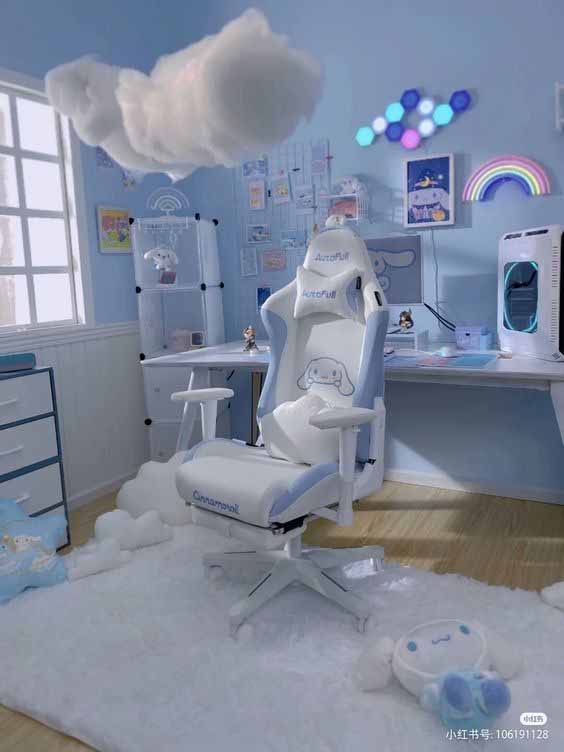 The sky blue color doesn't make a statement but doesn't overwhelm the eye or overpower the space. That" because it is usually consistent.
The light blue wall has a strong sense of personality and cohesion. So, if you don't have a specific favorite color, why not let sky blue be the theme of your bedroom?
25. Light Lilac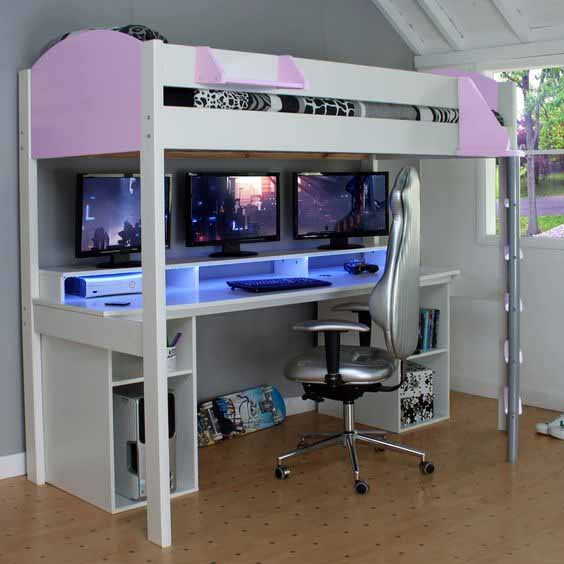 Light lilac is proof that you can decorate your gaming room with color and still be understated. Light lilac exudes serene and calm energy. You can burst it with shades of lavender to make the room appear greater.
26. Violet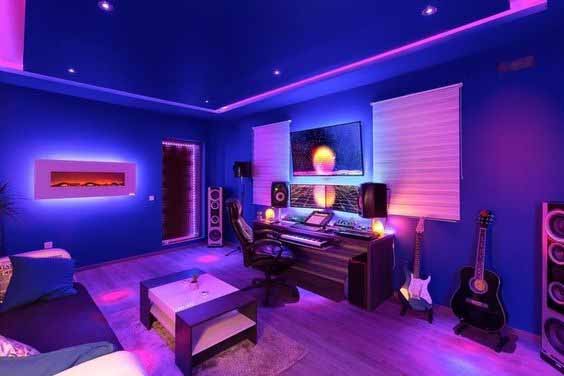 Violet is bold and overpowering, but you can prevent it from overpowering your gaming room. The best way to do this is color blocking and giving your gaming room more shape.
Conclusion
The article list 26 best gaming room wall paint ideas that you can choose from. You'll admit that having a comfortable gaming desk, chair, and high-end electronics alone isn't that enticing.
But creating a gaming room that's mood-boosting and energizing can make it easier. Since light and color influence our mood, there's a strong case for a colorful game room.