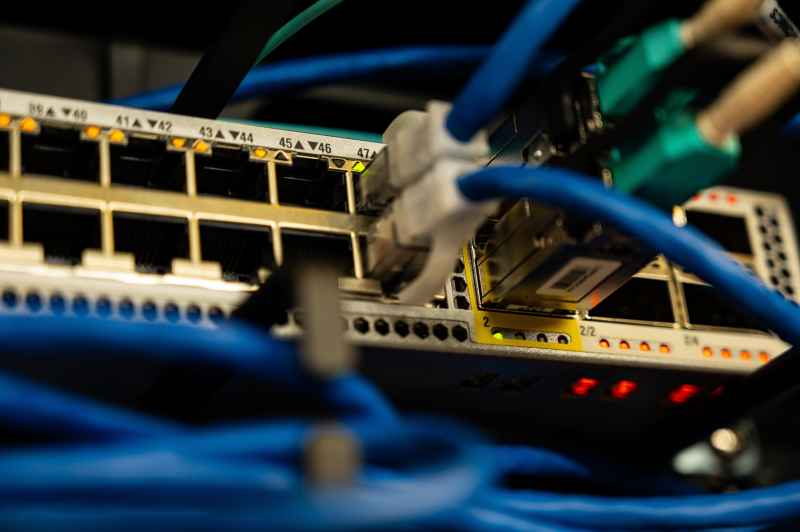 It can be frustrating when you plug your ethernet cable into the back of your computer, and it doesn't work. It's even more frustrating when you find out a problem with the motherboard and not just the port.
The ethernet port on your motherboard is one of the essential components of your computer. This article will show you how to fix an ethernet port on a motherboard so that your computer can continue functioning as it should.
What can cause an ethernet port on a motherboard to stop working?
An ethernet port on a motherboard can stop working due to several factors. One reason is that the ethernet port may have stopped working. Another possibility is that the motherboard itself has stopped working.
If there is no physical damage to the ethernet port, a software issue may be causing the problem. Most commonly is an issue with the cable or physical damage done to the port, but it could also be something wrong with the network card itself or even some software interaction.
How to fix the ethernet port on the motherboard
If the ethernet port on your motherboard is not working, there are a few things you can try to fix it. Let's look at the different alternatives:
Method 1: Check the ethernet cable
If you have an Ethernet cable that is old and broken, it may result in an unstable connection. The very same result will be achieved using a fabricated cable. To see if a bad Ethernet cable is the source of your troubles, consider utilizing a spare cable or connecting the faulty one to a different computer or laptop.
After that, examine the Ethernet port itself. If you connect and unplug the connection frequently, the wear and strain on the port will eventually cause it to fail. Check if the port is loose or clogged with dirt or other material. You can clean it using an air blower or a tiny brush.
A tiny LED light is usually located next to the port on most PCs. The LED should light up whenever you plug in the cable, indicating that the connection is secure. The Ethernet port could be loose or defective if the LED starts flickering or turns off some time.
You could use a USB-to-Ethernet converter if you're certain the port is damaged. Finally, try using an alternative port on your router or computer as a last resort.
Method 2: Check the ethernet connection
A deactivated Ethernet can sometimes be the source of the problem. The Device Manager makes it simple to disable Ethernet and other devices. Sometimes you can be sure you did not disable the Ethernet, but it's always a good idea to double-check. Devices can be disabled at any time or due to a bug.
To check and enable your Ethernet, here's what to do:
Hit the Windows key and R simultaneously, then type devmgmt.msc and click Enter.
Identify and right-click your network device by double-clicking Network Adapters.
Enable should be selected. If you don't see a Disable option, your gadget is already turned on. Select Disable and then enable in this situation. The device will be restarted as a result of this action.
After that, check to see if the Ethernet is working.
Method 3: Unload power
Although this is an old trick, it has helped many people. The problem is resolved by unplugging your computer's power supply. To execute this procedure, follow the steps outlined below:
Turn off your computer.
Remove the power cord and unplug it. If you have a laptop, take out the battery.
Press and hold the power button for about 30 seconds before releasing it.
Connect the system now (or put back the battery if you had removed it).
Switch on your computer.
This should take care of the problem. Everything should now be in working order.
Method 4: Run the network troubleshooter
You could use the built-in troubleshooting tool in Windows 10 to locate and resolve network-related issues. Here are the steps to follow:
Go to Settings > Update & Security after clicking Start.
Click on Troubleshoot from the left pane menu.
Select Network Adapter > Run the troubleshooter. This will be in the Find and fix other problems section.
To begin troubleshooting, pick Ethernet from the list of network adapters and then select Next.
The network adapter troubleshooter will look for any problems leading to a shaky Ethernet connection.
When the troubleshooter has finished scanning, it will report the issues found.
After that, the next step is to fix them according to the directions provided.
Method 5: Update drivers
If the Ethernet adapter's driver is obsolete, faulty, or lacking, it might lead to various problems with connectivity. To update the driver for your Ethernet adapter, here's what to do:
Look for Device Manager in the Start menu search bar and choose the best match.
Select View > Show Hidden Devices from the drop-down menu.
Expand the Network Adapters section of the menu.
Select Update driver from the context menu when you right-click the Ethernet driver.
Select Automatically search for drivers.
Device Manager will look for an up-to-date version of your Ethernet adapter on the web.
When the search is finished, it will display any available updates. After that, install the driver, restart your machine, and verify that your Ethernet connection is steady.
If you've updated your drivers recently but still experiencing an issue:
Even though it's improbable that an updated driver may create this problem, it's not out of the question. If you already installed a new version and the Ethernet started misbehaving, it's possible that reverting to the old version will fix the problem.
Hit the Windows key and R simultaneously, then type devmgmt.msc and press Enter.
Find and double-click your network device under Network Adapters.
Navigate to the Driver tab.
Select Rollback Driver, and then follow the instructions on your screen.
Please keep in mind that if the "Roll Back Driver…" button is greyed out, it indicates you cannot revert to the earlier version.
Method 6: Using Windows 10 network reset tool
If you try the network troubleshooter option but fail to resolve the problem, you can also use Windows 10's Network Reset feature. This reinstalls all network adapters and restores the default settings for all networking components. Here are steps to follow for this:
Click Start and go to Settings > Network & Internet. You may check the status of your network here.
Scroll down to the bottom of the page and select 'Reset Network.'
Reset now by pressing the Reset button. Windows 10 will restart your device after the procedure is completed.
Method 7: Check your power management settings
Windows 10 will occasionally decrease some of its capabilities to conserve battery life. This is especially true if you're using a laptop with a low battery or if you've set Battery Saver.
Here's how you may check the Power Management settings:
Search for device management in the Start menu search bar and click on the Best match.
It will expand the Network Adapters menu.
Right-click the Ethernet adapter on your device and select Properties.
Navigate to the Power Management tab.
Go to the power saver option and uncheck it.
Restart your computer or laptop to see whether the Ethernet connection continues to disconnect.
Method 8: Disable your VPN
If you need a quick remedy, consider disabling any VPN software installed on your computer or laptop. To disconnect your manual VPN connection in Windows 10, here's what to do:
Click Start.
Go to Settings > Network & Internet.
Pick VPN from the left pane menu.
If you wish to delete your VPN, click on it and select Disconnect or Remove.
Method 9: Turn Off Antivirus Protection
In rare circumstances, a Windows component could be the source of the problem on your machine. The Windows Firewall or Windows Defender could cause this problem on your PC.
As a result, you can disable both Windows Firewall and Windows Defender to ensure they're not the problem. It's also conceivable that third-party antivirus software is causing the problem, so ensure you turn off any third-party security software.
Here are steps to follow:
Press "Windows" + "R" for the Run prompt.
To open the original Control Panel interface, search "Control Panel" and hit "Enter."
Select the "View By:" choice in the Control Panel and then the "Large Icons" button.
After that, pick "Turn Windows Defender Firewall On or Off" and then "Turn Windows Defender Firewall On or Off" to activate the Firewall.
From the Control Panel, access Windows Defender Firewall.
Ensure that "Turn On Windows Defender Firewall" is unchecked for both possible Firewall options.
Save your modifications and exit the Window after you've made your choice.
Return to the desktop and check if the problem is still present.
Conclusion
Now that you know how to fix the ethernet port on your motherboard, it's time to get back up and running. Luckily, we have a few methods for fixing this problem. You can check the cable first or look into other connections around it.
If those options don't work, you may need to update drivers. The last option would be using Windows 10 network reset tools to clear any possible settings from interfering with your internet connectivity. We hope you found this post helpful in fixing your ethernet port problem.