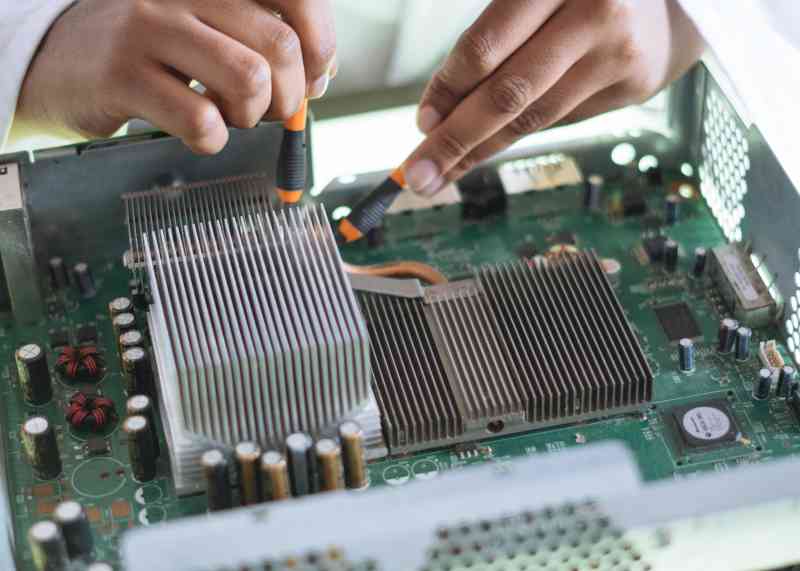 The motherboard drivers are the software that makes sure your motherboard is working correctly. It manages things like memory, CPU, and other components on the board to make sure they work together.
When you get a new computer system or add more hardware to it, you may need to install drivers for all of these devices. This blog post will show you how to install motherboard drivers from a USB.
This is a quick and easy way to get your drivers installed on a new computer or replace old ones that have had their time.
What Are Motherboard Drivers?
Motherboard drivers are software that controls the hardware components of a motherboard. They allow you to install and update your operating system and resolve common driver issues such as conflicts between devices.
An individual needs to take care when installing or updating these types of software so they don't cause problems with other installed programs on their computer.
Where Can You Get The Motherboard Drivers From?
You can find them on the manufacturer's website. However, you should always check to ensure that they're compatible with your motherboard model first.
Most of the time, people tend to download drivers from a random questionable website because it saves some trouble or a lack of knowledge about which ones are safe and which ones aren't. This is not only a very dangerous thing to do but also counterproductive.
It is always best practice to get your motherboard drivers from the manufacturer's official website and not some shady site that you found through a Google search. This will help ensure that you're getting the most up-to-date drivers possible, as well as ones that have been specifically designed for your device.
How To Install Motherboard Drivers?
There are a few different ways to install motherboard drivers, so we'll run through them all in this guide:
Using the CD/DVD that came with your computer when you bought it – This is usually the best option as most manufacturers tend to package up their latest and greatest drivers onto these discs.
Downloading from their official website – Most manufacturers have a download section that contains all of the latest drivers for your product, so this is always a good bet if you don't have an installation CD to hand.
Using driver update software/utilities – This option can be helpful as these programs can often find and install the latest drivers for you without any effort. However, it's worth noting that not all driver update software is created equal so do some research before settling on one.
Installing from a USB thumb drive – This can be a good option if you don't have an installation CD or DVD, but it's worth noting that not all motherboards support this type of installation.
Manually installing from Device Manager – If all else fails, you can always try to manually install the drivers yourself by opening up Device Manager and locating the specific hardware component you need drivers for.
Once you've found the driver, right-click on it and select "Update Driver Software," followed by "Search Automatically For Updated Driver Software." If any updates are found, Windows will automatically install them for you.
If You Can't Find The Drivers…
In some cases, you may not be able to find the motherboard drivers for your specific device. This could be because they're outdated, no longer available, or just incompatible with your system.
In this case, you have a few different options:
Use generic drivers – If all else fails, you can try using generic drivers instead of the ones that came with your motherboard. These can often be found on the manufacturer's website, and while they may not be as good as the official drivers, they'll at least get your system up and running.
Use a driver update utility – As we mentioned before, there are some different driver update utilities available online, so you may want to try using one of these to see if it can help you find the missing drivers.
Contact the manufacturer – If you're struggling to find the proper drivers for your motherboard, then contact the manufacturer and see if they can help out. They may be able to provide you with an updated driver or even a newer version of your motherboard that supports the latest drivers.
How to install motherboard drivers with USB
It is straightforward to install the drivers once you download them to a USB stick, and it does not involve any effort on your part. For most individuals, particularly those without access to the Internet, this is the recommended method of installing motherboard drivers.
Follow these procedures to install drivers from a USB drive:
Unzip the drivers from the USB disk where they were downloaded and place them on the same USB device. You won't need to do this if you have access to the Internet, but it will help accelerate the process.
Click on "Extract Here" to unzip the file into the same folder on the USB drive.
Double-click the unzipped folder to open it and allow time for all the files to load.
Double-click the setup file (which should have an.EXE file extension). This may take a bit longer initially, but it should only take less than 10 seconds.
A wizard will appear, instructing you on how to proceed. The next step is accepting the license agreement and continuing with the installation. To acquire the drivers, you must agree.
Use the wizard to guide you through the procedure, clicking "OK," "Next," or "Accept" as needed. You'll eventually be prompted to click on one more "Install" button. When you click this option, the drivers from the USB drive will be instantly installed on your computer.
The wizard will ask you to restart your computer once some time has passed. This is the final stage in the installation procedure. You should have up-to-date motherboard drivers after restarting.
Problems You Can Face While Installing Your Drivers Using A USB
Like any other method, problems can arise while you use a USB to install your drivers. Let's take a look at some of the common issues and what you can do about them:
– Not being able to find the drivers you need. When installing drivers on USB, you need to make sure that you have the right ones for your system. If you don't, you can wind up with many problems. Make sure you know what type of USB port you are using (USB Type A or B) and download the drivers that correspond to it.
– The installation process is not working correctly. One common cause is that the drivers are not compatible with your system. Another one could be due to corruption during download or transfer.
– Not being able to access the files on USB after installing them. There can be several causes for this, but if you reformat your USB drive and try again without transferring anything over, you should have no problem accessing the files.
– Your computer does not recognize the USB drive. This can be due to several reasons, such as a faulty USB port or driver issues. If this is the case, you might need to try another USB port on your computer or update your drivers.
These are some of the most common problems people face when installing drivers using a USB. If you have any of these issues, be sure to try some of the solutions mentioned above. In most cases, this will solve your problem, and you'll be on your way to using your new hardware or software.
Getting the proper drivers for your motherboard
You must first obtain motherboard drivers before installing them. You'll need to know the manufacturer and motherboard model for this. This is the information that will enable you to find the correct drivers.
The majority of motherboards employ four different types of drivers in general:
Chipset Driver: This instructs the operating system on communicating with and operating the motherboard effectively.
VGA/Graphics Driver: Your computer's visuals will not function correctly if you do not install and maintain this driver up to date.
Network(LAN) Driver: This driver allows your operating system to display and maintain strong network connection choices.
Audio/Sound Driver: This driver will enable you to use your speakers and/or microphone with your audio system.
Conclusion
There is still hope if you need to install a motherboard driver on your computer but don't have an internet connection or CD drive. You can use the USB port in your PC and follow these steps outlined above to get it done right away.
If you are one of those individuals who want their workstation set up as cleanly as possible without any extra hardware sticking out from it, installing drivers through a USB cable may be perfect for you.
The process only requires that the individual plugin the device with no software installation. Don't worry if things seem complicated at first glance- It's easy and you will be up and running in no time.